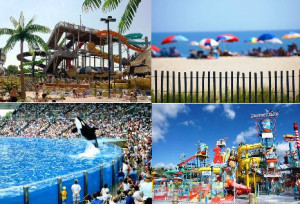 Summer is just around the corner, and that means the kids are off from school and family vacations are in full swing.  Here is a list of 6 places that you can take the kids, and have fun yourself!
You must see Disneyland!  Anaheim used to be just about Mickey and the Disneyland Resort (opened in 1955), but now there is so much more!  Along with the main park, there is California Adventure, Downtown Disney, Knott's Berry Farm and more!   If you have time, be sure to check out the Anaheim Angels for a baseball game. 
Having been here myself, I can tell you it's a great place to visit.  Check out the Bigfoot Zipline, its over 2 hours of gliding over oaks and pine trees.  There is the largest outdoor waterpark here called Noah's Ark as well as the largest indoor water park called Wilderness Territory.
Yes, this is the Jersey Shore but I am not talking about going to find Snookie and fist pump the night away.  The main attractions here are the beach and boardwalk.  There are some great water parks here too, Ocean Oasis, Raging Waters and Splash Zone.  The kids are bound to have a great time!
There is so much to see here!  Discovery Cove is pretty cool, its an amusement park where you can swim with dolphins and fish while snorkeling.  Of course there is Walt Disney World, but there is also EPCOT Center!  EPCOT is fun and educational; the kids will have a blast while learning about the world.  Check out Sea World, Universal Studios, Typhoon Lagoon and even Gatorland!
Hello, it's the birthplace of Hersey!!  In this city, its all about the chocolate.  Check out the Hersheypark Museum, Hershey's Chocolate World, Hershey Gardens, and the Hershey Story Museum!
Being a stone's throw away from San Diego, its close enough to check out the San Diego Zoo and Sea World after you see Legoland. 
 -Jessica Brown