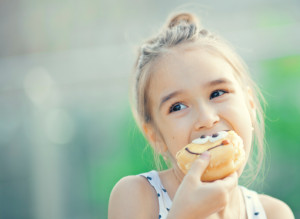 Slumber parties are always a blast! Staying up late, watching movies, hanging out with your friends and eating junk food are the perks that come from such gatherings. I've hosted several of these at my house over the years and always managed to survive them, even when I have had 9 kids at my house all by myself. I usually order pizza (that's the junk food) and then have some variety of healthy snacks for the kids.
This past weekend I had a sleepover at my house with one of my closest friends and her children. We did things a little different. I made spaghetti sauce, from scratch, and then we thought it would be fun to have a sweet treat for the kids and watch movies together. When my girlfriend called me to ask what she could bring I suggested ice cream or whatever she likes. She is such a doll and came over with Rice Krispie treats and all of the ingredients for an amazing concoction called "butterbeer," from the movie Harry Potter. It's a fantastic combination of butterscotch ice cream topping, vanilla ice cream, and root beer, much like a root beer float. She brought frosted mugs and made everyone a butterbeer. We, of course had one too. They were delicious!
Everyone also indulged in Rice Krispie treats alongside two bags of popcorn. We gathered on the couch and had such a wonderful time! Afterward, we took the kids outside to "burn" off some energy– they rode bikes, scooters and played football. Then bathed or showered all 6 kids and ready for bed.
Oh, how wrong we were! The sugar kicked in and the kids were running amok, literally bouncing on furniture like they were in gymnastics class. We were laughing at them because kids are just hilarious and say the funniest things, but when we tried to calm them down it was a tad difficult. We finally had to lay down with them to get them to settle. It took almost an entire other movie before they crashed.  So next time we do the sleepover we will most likely go back to enjoying sweets and pizza early in the evening, followed by healthy snacks like hummus and veggies, cheese and crackers, grapes, and lightly buttered organic popcorn and water for drinks. Otherwise we're in for another late evening sugar high and crash, and some seriously hyper kids.