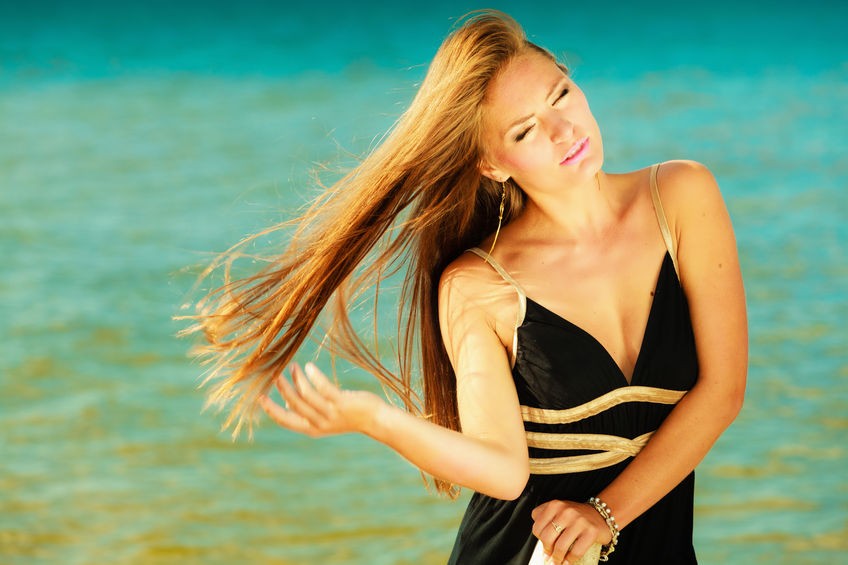 Summertime is finally in full swing and you may be pondering a change in your day-to-day look. No need to do anything drastic — even something as simple as switching up the products you use could make all the difference. With temperatures rising, it's important to keep your tresses looking moisturized and fresh at all times. So if you have dead ends, chop them off. If you want a quick and easy change, add a little color. Or if you're feeling like you just want to play around with styles, try a fishtail braid. Ladies, you have options — and Weekly Sauce is ready to give you eight tips and products to try this summer.
Color Run
The usual change ladies tend to go with in the warmer months is going lighter than usual — a look that pops in the sunshine. The thing with coloring, though, is that you have to stay on top of conditioning and keeping your strands healthy with treatments once every couple of weeks. If not, you run the risk of drying your hair out and that results in a ton of damage. You don't want to end up having to cut your hair off if it can be prevented — although, that would be a killer way to keep cool, right? See Tip 2 for more on this.
Cut It Off
When the thermostat hits 90 degrees, no one wants to feel hair on their neck. Nope. If you're a more adventurous girl, chop those tresses off for the summer. You may not go as far as doing a pixie cut, but a bob could do the trick. Either way, if you're skittish about the idea of a cut, try to remember that it's only hair and that it'll grow back.
Kill the Frizz | Mizani's HRM Humidity Resistant Mist, $17.00
For girls with natural curls, summer can be a real downer when it comes to your hair "holding" a style. The humidity will have your hair frizzing up before you enjoy your first cocktail on a restaurant patio this season. Try a pretty up-do and a hairspray that offers a light hold, like Mizani HRM Humidity Resistant Mist, to keep your hair looking great even when the weather isn't cooperating.
The Proper Condition | CHI Keratin Conditioner, $16.50
Hair loves conditioner, especially when it's hot out. Although it's important to keep your strands well-moisturized throughout the year, it's particularly necessary when summer hits and the sun is blazing. An intensive product like the Keratin Conditioner from CHI coats your tresses with jojoba and argan oils, making it resistant to breakage and keeping it brilliantly shiny.
Mask It | SheaMoisture SuperFruit Complex 10-In-1 Renewal System Hair Masque, $12.99
Remember how we mentioned that it's really significant to condition your hair this summer? We meant that. It's absolutely necessary to pay special attention to the products you're using, and here's another one that helps keep those strands soft and well-protected in the unforgiving heat of this season. The SuperFruit Complex 10-In-1 Renewal System Hair Masque, made by SheaMoisture, is a treatment that'll ensure the continued health of your hair. There are antioxidants to take care of already-damaged hair and protect color while keeping your strands nourished.
Polish It Off | John Frieda Frizz Ease, $9.99
You may not want to use too much heat on your hair this season, but if you do want to use that flat iron at some point, try applying a serum like Frizz Ease by John Frieda beforehand. Not only will the formula protect your hair as you style it, but it prevents any frizz from blowing all that work you put in to get your strands ruler-straight.
Keeping It Loose
Playing with textures is a timeless go-to in the summertime, primarily because it's easier to maintain. No one wants to be out on the town and constantly worried about whether or not their hair is "out of place." So wash-and-go, use some product free of alcohol (which dries hair out) and finger-comb your natural texture until you have the desired look. For something a little more calculated, go through your hair piece by piece with a curl wand, skip the hairspray and watch the waves fall.
Braided Beauty
Seems like everyone wants to rock braids these days. No better time to try some out than during the summer. Whether you want to do cornrows, twists or something flirty like a fishtail braid, braids are sure to keep you feeling and looking cool while you run around in the heat this season.