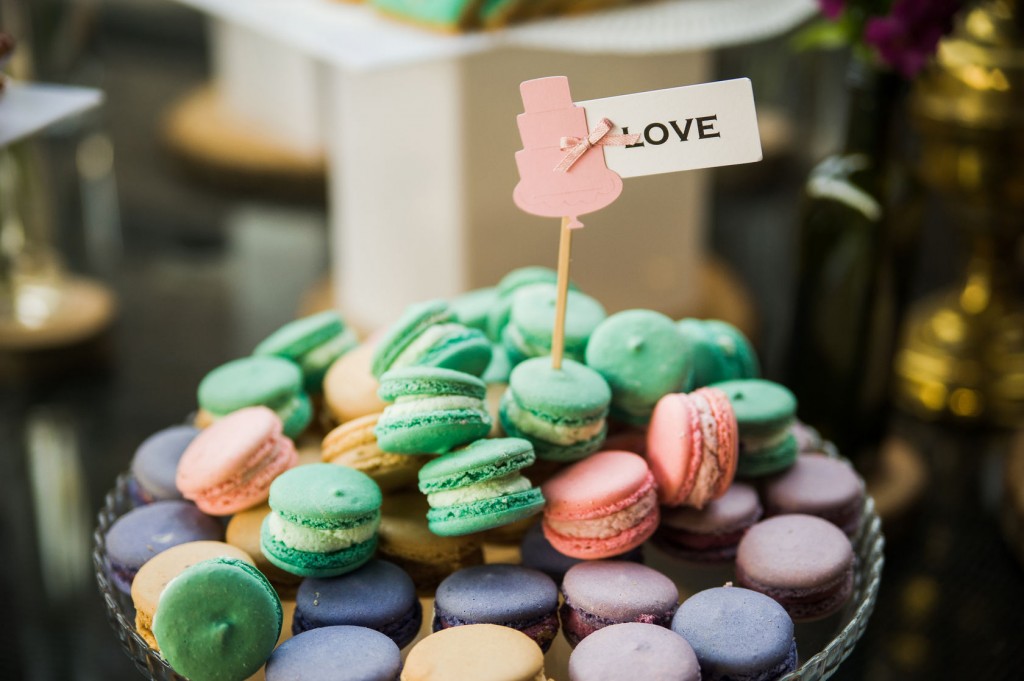 For event coordinators, venue representatives, florists, gown shops, cake decorators, chefs, disc jockeys and everyone else who works together to pull off a couple's dream ceremony and reception, there is one time of year that stands out from all the rest: it's wedding season, and it's upon us.
Weddings happen all year, but peak season runs from approximately May to October, with a steady influx of nuptials occurring during the summer months, says Jessica Corbett, owner of Hitched Planning + Floral, based in Kansas City. Her company has been in business for over six years, and she works with 90-100 couples annually. With all that experience, she knows a thing or two about trends this season; she was kind enough to share a few of them with us.
If you're getting hitched or know someone who is, know that these seven things are hot for Wedding Season 2015:
Having a family-style, sit-down meal.
Gone is the trend of having your guests file into one winding line for a buffet-style meal. Even having food stations, featuring various entrees of cuisine in separate locations, can bring long lines and lots of waiting. This wedding season, many couples are opting for family-style meals where large platters of foods are brought to individual tables and passed amongst guests. This encourages conversation if guests at a certain table don't know one another well. In addition, family style meals can also be economical if you choose your dishes carefully.
Incorporating personalized details.
Bringing aspects of the couple into the event is something that isn't necessarily new but is picking up speed in the industry, Corbett says. "I had a bride who was a Girl Scout troop leader, so we served Girl Scout cookies as a late-night snack," she said. "Little things like that bring personality into it."
Using alternate dessert tables.
Having alternate dessert tables, like pie displays and donut tables, is a really hot concept right now. Where the colorful candy bars have historically been, you can now find displays of mini treats instead. There's also the "naked cake," which has come on strong in the wedding cake department this year, according to her experience. "Naked cakes are huge right now," Corbett shares. "They're cakes that are just lightly iced so the actual cake shows through, and it provides a very organic feel that a lot of couples are going for."
Incorporating local artisanal goods into your guest favors and centerpieces.
It's not uncommon for couples to include local artisanal elements into their day, especially in city-centric areas like Kansas City. For example, a wedding in KC might feature Boulevard Beer at the bar or a jar of local jam as a favor. "It's just a cool little way to show guests you care about locality. It adds to the 'homey' feel of the event."
Using fresh herbs in floral arrangements.
Incorporating fresh herbs, such as rosemary and lavender, is a very hot trend this year. Corbett knows this especially well because her business specializes in floral arrangements in addition to wedding planning. "Nature being brought in to the event is a big design element for a lot of people." Adding herbs to the flowers in the event accomplishes this goal, bringing in fragrance and lending to the organic feel.
Having your ceremony and reception in the same venue.
There is a big trend toward having the ceremony and reception in the same venue. In addition to the economical advantage this strategy can provide for the financial fronters of the event, guests only have to travel to one place instead of multiple spaces.
Designing your special day using metallic elements and geometric shapes.
Corbett says mason jars are out when it comes to design. Instead, metallic colors and geometric shapes are at the top of couples' aesthetic wishes this season. "I'm seeing metallics and geometric shapes on everything from invitations to the centerpieces."
What kind of trends are you spotting during Wedding Season 2015? Let us know in the comments.