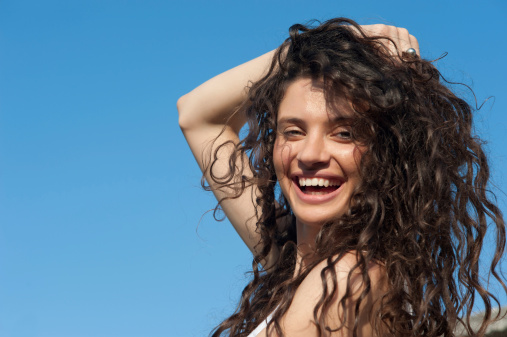 Curly-haired gals know a thing or two about fighting with their hair.
Some days it looks perfect when you let it air-dry while you run errands, and (most) other days your curls take weird shapes and fall flat when you're hoping to feel your sexiest for a night out. A good shampoo and a conditioner with plenty of hydration, plus staying away from daily shampooing, are your first steps towards winning the battle against your curls. But the right hair product can mean the difference between oo-la-la and UGH when it's time to head out the door. Here are some of our favorites, especially for summer:

Flawless Curls Lotion Crème ($3.98; drugstores)
This styling crème locks in moisture all day long without any crunch or stiffness at a fraction of the price of many other products. Work the product into damp hair and go about your day. Yes, really – it's that simple. If low-maintenance and natural is your way, this crème is your perfect curly-hair daydream.

Frizz Ease Expert Finish Polishing Serum ($7.19; Target or Walmart)
Frizz Ease might be one of the first product lines you turned to in your desperation to tame your curls. You'll no longer find their coconut-y beach wave spray, but this polishing serum is even better. It guards your curly (or straight) look against frizz and humidity, providing a smooth and silky finish. If you prefer sleek to ocean-tousled, this is the product for you. (If your hair is on the thinner side, you might want to avoid this or any other serum and stick to a spray.)

Davines No. 14 Sea Salt Primer for Wizards ($24.00; online or in salons)
This primer really does make you feel like a wizard casting magic spells over your waves and curls. Finally, some control and volume that stays! This marine salt spray smells absolutely divine (hints of vanilla and the best vacation you ever went on), can go on dry or wet, and can be used to freshen up day-old curls. It provides texture and volume with a beach-dried look. The result is matte, not shiny, but who needs added shine when your curls look perfect and your hair looks healthy? You won't need any other product layered under or over this to keep the flyaways and curls in check.
Bumble & Bumble Surf Spray ($26.00; Sephora)
Its matte-black label says it all, "For sexy, beachy, windswept styles." This salt-infused spray adds body with a light hold and creates that sea-breezy texture anytime. It can be used on damp or dry hair and to add a little extra "oomph!" to all hair types. This salt spray offers more hold than Davines's, but still without the crunch. Try the entire Bumble & Bumble Surf line with shampoo and conditioner to really lock in summer-friendly curls.
No more frizz, no more poofs – just so many admiring looks! Go on with your curly-haired self.