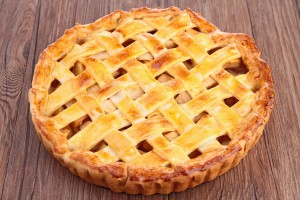 Pies are a staple during this time of year, although we're down to eat them year round. Most people are gathering recipes for pies that can serve as dessert items, and while we're definitely going to share some of our favorites here, we wanted to also bring into the mix some savory options. Have you ever had a delicious pie for lunch and then had more pie for dessert? We have! But that's what happens when you have friends who own a pie company.
1) Savory Seitan Pot Pie – This is an option vegan or vegetarian option (depending on the crust you use) and we think it would be delicious for a holiday party, or just to have at home on a cold winter night.
2) Moroccan Shepard's Pie – This is a twist on the standard Shepard's pie (a favorite of my fiancé!) and looks like it would be a great recipe for you meat lovers out there.
3) Vanilla Bourbon Apple Pie – Apples and bourbon are a favorite of mine, and vanilla added to the mix seems like it would be a perfect sweet pie for any party you go to. Just make sure to label it if there are kids around.
4) Oatmeal Pecan Pie – Pecan pie is one of our favorites, but we've never had it with oats. This seems pretty interesting, and one we will definitely be adding to our Pinterest board.
5) Sweet Potato Pecan Pie – This is a hybrid of two of my favorite pies! It's like heaven in a pie pan. Whoever thought of this frankenstein pie is a winner in my book!
Time to gather up our recipe book and print out some new ideas!