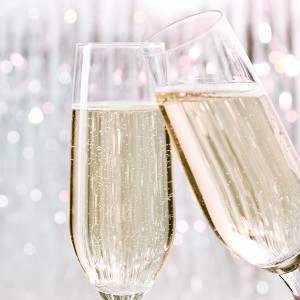 One of the best holidays of the year is coming up, and it's time to bust out the bubbly! That's right, New Year's Eve is right around the corner and if you don't partake in at least one glass of champagne, you're doing it wrong. Yeah, we said it. YOU'RE DOING IT WRONG.
There are so many delicious cocktails out there that include the bubbly drink, and if you are hosting a party at home, you better provide at least one specialty drink for your guests. We are getting super pushy with this post, aren't we? Sorry, we're just passionate about champagne.
Here are some recipes we plan to try this year.
1) The Classic – This is a classic champagne cocktail with bitters, sugar, and Cognac. The sugar cube will cause even more bubbles in your glass, and this is a recipe that can do no wrong.
2) Red Currant Champagne Cocktail – This is as easy as it gets. Red currant puree mixed with champagne or sparkling wine. We love the deep red color, and think it would be a fabulous addition to your party!
3) Pear – Lemon Fizz – Pear is a great fall/winter fruit to include in your menu, so why not have it in the drink section? There is also vodka in this one, so watch out. Don't drink too quickly or you may end up asleep before midnight!
4) Raspberry – Ginger – This one sounds too delicious to pass up! The combo of tart raspberries, spicy ginger, and sweet champagne sounds decadent, and that red color, once again, is too beautiful to pass up!
5) Lavender Bellinni – If you are having a more chill party to ring in the new year, bust out the lavender and take everyone on a mental journey to the spa. We happen to love lavender mixed with sweet flavors, so if you haven't tried it yet, go for it!
Happy sipping!