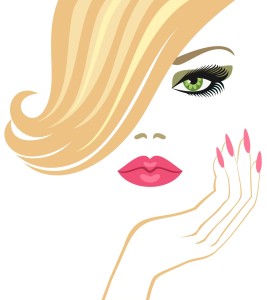 Does this winter weather have your cuticles looking like crap? Your skin looking scabby? If you're nodding in agreement, then you, my friend, are in dire need of a manicure — and not just gels or a color change. You need some TLC for those digits. There are few more affordable little self-indulgences than heading to the salon to get a manicure, but sometimes you don't have the time or extra $25 to spend on getting that pretty peach or daring red polish put on. No worries — you can do just as good of a job at home!
Remove any existing nail polish and then soak your fingers in a bowl of lukewarm water for a few minutes to help soften your cuticles. (Skip hot water, as it can expand your nails and affect how the polish goes on.) Push your cuticles back using an orange stick or a cotton swab. Trimming your cuticles at home is risky as it can lead to infection, so leave that one to the professionals if it's your preference. (But, if you have a steady hand and a keen eye, have a go at them with a pair of cuticle nippers. Just don't cut down to the wick, so to speak.) For a truly salon-like experience, treat your hands to an exfoliating rub.
Step No. 2: File, Shape, and Buff
Whether you're after an oval or square shape, your first instinct may be to seesaw back and forth along the top of your nail with a file. This can actually cause peeling and splitting and weaken the nail. Instead, bring out the nail clippers if you need them and gently shape with an emery board or crystal file. Crystal nail files have a much finer grit that isn't as tough on nails and may be worth experimenting with if your nails are weak or prone to splitting. Once you have the desired shape, use a buffing block to smooth the nail surface to get rid of any ridges and ensure that your nail polish goes on smoothly. Finish by giving your shaped and buffed nails a quick wipe with nail polish remover to be sure no oils or dust get in the way of your polish.
Step No. 3: Polish
First things first: Yes, you need to apply a base coat. Why? It makes the polish last longer, and  it strengthens your nails and prevents color from staining them. You can try out different base coats from generic, all-purpose kinds to ones with conditioning agents like vitamin E. Once the base coat dries completely, you can begin to apply your nail polish. Don't start worrying about having a perfectly steady hand… it's easy if you follow a few small tips.
Less is more — too much polish on the brush can lead to goopy application that takes forever to dry and is prone to nicks and smudges. Apply one thin coat, wait a few minutes, and apply a second coat. With the right amount of polish, you should be able to use three vertical strokes to evenly cover the nail. Stick with two coats, no matter the color. The more thickness you add, the more likely it is to chip and crack. There! No sweat.
Step No. 4: Top Coat
Ever notice how much longer your salon manicures last than any at-home jobs? The magic is in the top coat. It helps seal the nail polish, provides some shine, and extends the life of your at-home manicure. It's worth your money to invest in a bottle from a good brand (try OPI or Essie).
Step No. 5: Clean up Any Smudges
Painting your nails, especially with your non-dominant hand, can lead to undesirable "coloring outside the lines." Clean up any smudges by wrapping an orange stick in a thin layer of cotton (a Q-tip works, too) and dipping it in nail polish remover. Kick back with an e-reader, magazine, or TV episode while your nails dry. Finish it off with a nourishing and nicely-scented hand creme.
Voila! Your own at-home salon manicure. Go ahead and tell your friends you did it yourself when they ask how you made time to go get a manicure or compliment your polish color.