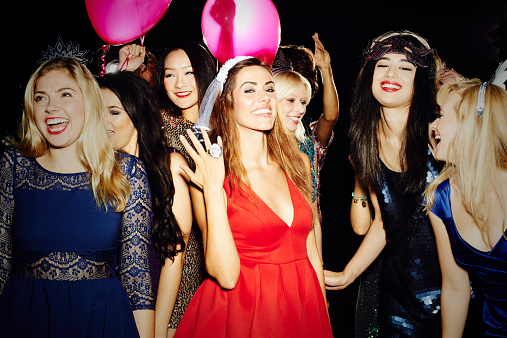 Holiday season has come and gone, and chances are that someone you know — an acquaintance, a close friend, a family member, or even you yourself — might have gotten proposed to. Maybe it's the cheer and general sense of good feelings that are in the air, maybe it's the fact that all your loved ones are already conveniently gathered in one place, but we're hard-pressed to come up with another time of the year when the question gets popped more (except maybe Valentine's Day). And where are there weddings, there will undoubtedly be bachelorette parties. Have you ever wondered how this time-honored tradition of celebrating the soon-to-be-bride's last few moments of singlehood came to be? Curious about how brides and their best gals get down across the pond? We've got your answers here.
The female equivalent to the bachelor party, a bachelorette party is a celebration that is held for a woman about to get hitched (we all knew that). Also known as a "hen party" in Ireland and the United Kingdom, a "hens' night" in Australia and New Zealand, a "stagette" in Canada, as well as "kitchen tea" in South Africa, there are many different names for this once-in-a-lifetime (hopefully) celebration – but they all refer to the same thing. Approximately 94% of women have bachelorette parties worldwide, which goes to show that this is a serious business.
The term "hen party" was originally used to refer to an all-female gathering, and in 1897 The Deseret News described hen parties as a "time-honored idea that tea and chitchats, gossip smart hats, constitute the necessary adjuncts to these particular gatherings." Former First Lady Eleanor Roosevelt also referred to the Christmas socials she threw for cabinet wives and ladies of the press as "hen parties."
The modern-day bachelorette party evolved during the sexual revolution of the 1960s, but didn't become popular until the mid '80s. Between the '60s and '80s, women typically celebrated by going out for drinks. It wasn't until the '90s when women began visiting strip clubs and nightclubs. The cultural significance of the bachelorette party has largely been tied to the concept of gender equality. While the first images that come to mind when thinking of a bachelorette party involve night clubs, all-nighters in Las Vegas, and male strippers, many bachelorette parties go a different route and involve dinner and cocktail parties or themed "pamper parties," treating the ladies to spa treatments or cooking classes.
In the UK, naked butlers are a common form of entertainment at hen parties. Typically, a naked butler wears only a collar, dickie bow, cuffs and short apron, and tends to the bride-to-be and her guests by serving drinks and food. Some women go so far as to hire a naked chef as well, who caters to all of the women's culinary needs.  These days, destination bachelorette parties have become increasingly popular, and groups of women who can afford to often jet off to exotic locations, such as Mexico, to throw their celebration. Typically, the maid-of-honor is assigned the role of planning the bachelorette party, although nowadays, anyone from the mother of the bride to the duke of honor (a male friend of the bride) often take the reigns when it comes to throwing the party.
A traditional alternative to the bachelorette party is the bridesmaids luncheon, which is hosted by the bride or her mother during the daytime, where female guests are given small gifts by the bride. This is not to be confused with the bridal shower, where guests give gifts to the bride.  The bridal shower is a more low-key event (usually) that honors the future bride's role as a wife, and gifts are typically household items purchased off the wedding gift registry by friends.
For the couples who aren't into the idea of having their significant other going wild on the town without them, many people celebrate via a stag and doe party, also known as a "Jack and Jill," which is basically a co-ed version of the bachelor/bachelorette party, where the bride and groom celebrate with their friends together. And to the gentlemen: don't take offense just because your woman wants to celebrate on her own with her friends. Just like the bachelor party is a bonding experience for men, the bachelorette party serves as a celebration of female bonding and connecting with friends. And it also serves as a reminder that anything boys can go, girls can do, too.
Sometimes even better.
---
By: Kamala Kirk