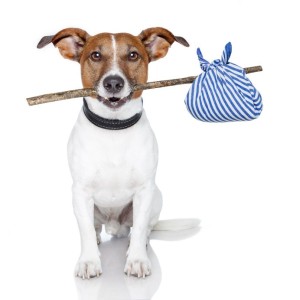 Traveling with your pet can be a fun-filled adventure for both of you—and often times the preferred option over boarding your four-legged friend.  If not done correctly, however, going on a plane with Fido or Whiskers can be a stressful and overwhelming experience for both of you.  So, here are a few tips to keep in mind when taking your buddy up, up and away!
Research Airlines
Whether you're taking your dog or cat on a domestic flight or abroad, do your research—this is especially true when flying overseas.  For domestic travel, however, every airline is different.  Some charge more than others while some require page after page of veterinary documentation.  Personally, for domestic travel, I prefer Southwest Airlines.  They charge $75 each way (which is the cheapest fee I've found) and they don't require a health certificate (which can cost up to an additional $106 depending on your vet).  With Southwest, however, only small pets are allowed, as they don't permit animals to fly with the checked bags.  So, only small dogs and cats that can be stowed in a carrier under the seat in front of you are able to fly.  Bottom line—do your homework.  Peruse the various airline websites and determine which one will best suit your needs.  And if you're flying internationally or on an airline that requires a health certificate, make sure you read the requirements carefully and have all your documents signed and ready to go.  These airline folks don't mind telling you to bug off within mere hours of your flight's departure.  So be prepared!
Find the Right Pet Carrier
Airlines have very strict guidelines when it comes to your pet's carrier, so make sure the one you choose fits their dimensions perfectly.  Most airlines sell their own, which you can purchase on their website or even at select pet stores.  However, another great brand that's part of the "Guaranteed On-Board Program" is the Sherpa.  With many sizes and styles, this is a great brand to check out and it's guaranteed to meet all airline specifications.
Ensure Your Pet's Comfort
Be sure to make your pet's carrier as comfortable as possible.  Lay down towels or small blankets—or maybe even an item of your own clothing to give your pet the feeling that you are nearby.  If you have a long day of travel ahead, pack food and treats in your carry-on bag and buy some water once you pass through security.  You can find collapsible travel-friendly bowls at any pet store.  If your pet is naturally anxious, then talk to your vet about a sedative.  There are strong prescription sedatives, but many pet stores also sell all-natural, milder anxiety relievers.  Though you can't take your pet out of its carrier during the flight, you can find other ways to soothe him or her.  Push treats through the cage of the kennel, talk softly to your scared pup or kitty.  Remember, they have no idea what's going on, so it's your job to make this as easy and peaceful as you can.