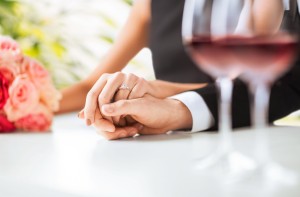 When you've been in a happy relationship for over five years, and you anticipate a ring is on the horizon, it's hard to not have total and complete wedding fever. And by wedding fever, we mean daily Pinterest browsing, invitation designing, ring gazing, and everything else you can think of relating to a pending engagement.
If you are anything like us, this also means choosing the perfect ring. Something that is unique, but classic. Affordable, but definitely more than you would normally pay for jewelry, and of course something that screams "this is me (or maybe this is us?)" to anyone who comes across that ever important ring on your finger.
Since we've already spent countless hours on the hunt for something different than a classic solitaire, we thought we'd share with you some of our favorite pieces we've stumbled across so far.
1) Hazeline Black Diamond by Anna Sheffield – Why not kick off our list with something really different: a black diamond. This is a perfect mix of rock 'n roll, meets feminine chic, and we think the rose gold is the exact touch needed to take it to the next level of uniqueness.
2) Lexie Emerald Ring by Jennie Kwon – We've noticed a lot of women steering away from a traditional diamond center stone, and opting for another precious or semi-precious rock instead. We LOVE the vintage design of this incredibly beautiful piece.
3) Diamond Tear Drop Ring by Conroy & Wilcox – While tear drop shaped diamonds are pretty traditional, the setting of this ring stands out among the rest. Bezel set, delicate, and incredibly sweet, this is a beautiful piece for someone who wants a less flashy piece of bling.
4) Gold Stacking Rings from Etsy – Perhaps you want to forgo stones all together opting instead for a simple gold band. We love these stackable rings from Etsy seller, Venexia Jewelry.
No matter what you end up going with, or maybe you don't choose it at all, we hope you've been inspired by our selections.