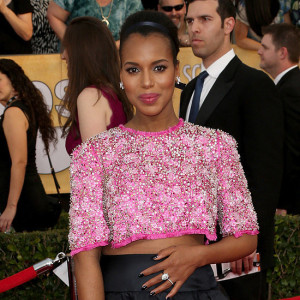 This summer's trends of tribal prints, mini crop tops (Kerry Washington gets a pass), bare midriffs and high-waist pants are not exactly pregnant lady friendly. In fact, they're downright hostile. Even IF we could somehow, miraculously, fit our boobs into a mini top and our bellies into a pair of high-waist jeans, can you imagine how ridiculous that would look? Even Heidi Klum wouldn't be able to pull that off.  Ok, she might be able to pull it off. But she's Heidi – anyone who ages like she does is simply not human. Anyway, I digress.
Growing a little human is hard work enough. In any pregnancy, whether you've got super star genes (like Heidi or Kerry) or you're plain normal like the rest of us, our bodies inevitably change. Some of us more drastic than others. Women shouldn't have to spend excess time and energy worrying about how to clothe their pregnancy silhouettes. However, the last thing we should do is to dress inappropriately, look ridiculous, and top it off, feel uncomfortable. (Because let's be honest, how are high-waist jeans over your burgeoning belly comfortable? I don't know about you, the thought alone makes my stomach hurt). But just because our bodies might be a little bigger, doesn't mean we need to forgo all of this summer's trends either.
Here are some maternity staples, as well as some of this summer's top trends, that work for expecting moms.
Fail-proof staples:
Maxi Dresses  – The holy grail of maternity wear. It hides all the extra bumps we might accumulate from the added weight and it elongates our bodies at the same time. (And, it makes those frequent bathroom runs much more efficient!) You can buy them in strapless, halter, spaghetti, short sleeves and long sleeves styles. They make cotton ones for a causal day out, or in finer fabrics like silk for more formal affairs. There's literally one for every taste and dinner table. They're super convenient and every expectant mom should own at least three.
Nursing Tanks – Whether you're expecting or not, tanks are always a summer essential. But if you're expecting, consider buying some nursing tanks and wearing them before your little bundle arrives. Because they're made for nursing, you might find that there is more room than the average tank to accommodate your growing chest. Nursing tanks might be more comfortable even before you start nursing. Plus, then you're prepared for when the milk comes in!
Maxi Skirts – The stretchy elastic waistbands are often times less constricting and more comfortable than some pant alternatives. And similar to maxi dresses, the length of these skirts draw out your legs and help elongate your silhouette. As our bellies grow, we inevitably start looking a wider, so looking a little elongated always helps with looking slimmer. Who doesn't want to appear slimmer in the summer?
Light Cardigans – Because even in the hot summer months, summer nights can be cool. And if you are like I was when I was pregnant, your arms might be looking a little plumper than you'd like. Light cardigans offer the perfect cover-up. Something to keep you warm on those evening walks or a night on the town, and by concealing problem areas, you'll feel more beautiful and confident.
Shift Dresses – The most versatile of the dress family, a shift dress' cut is suitable for women of all sizes –  making shift dresses an ideal choice for work (pair it with that light cardigan mentioned above), work functions, church, formal events like weddings, showers, or even Sunday brunch at the country club.
Convertible Dresses – Perfect for formal events in the summer. Convertible dresses are usually made from jersey and/or Lycra fabrics so it offers extra stretch for growing bellies. There are now several brands that offer these types of dresses but my fav is the Two Birds brand. (I own three and my bridesmaids wore them at my wedding). Two Birds' quality is unbeatable and the fabric offers a sheen that other brands lack. It's a dress that can be worn fifteen different ways (yes, fifteen!), pregnant or not. If you are, or have been pregnant, then you know that "fifteen different ways" speaks volumes in terms of convenience, and that alone is worth spending the money for.
Sandals with Great Support – Hot summer months only augment any body swelling that pregnancy causes, and if your piggies are swollen, keeping them in sandals might feel the best as opposed to sneakers or a closed shoe. Besides, sandals go with everything in style this summer. Pick a pretty pair that suits your taste. Afterall, you're going to want to show off that pedicure too.
Trending now:
Be bohemian in sheer kimonos – a big hit this summer, kimonos are a perfect alternative if you want something lighter than a cardigan and more in tune with this Summer's trend. In a demure floral print, it's screams femininity – perfect for expecting moms.
Uptown chic in a peplum top – still in style, peplum is the trend that never dies. I never quite caught onto it but on people that I've seen, it's a good look. Perfect parts lady-like and hip. I'd save this one for the early stages of pregnancy when you've got a small bump, but then again, if you've got Heidi genes, feel free to rock this so long as your belly can withstand it.
Another bohemian: peasant tops – if you're pregnant this summer, you're in luck. The peasant top's billowy silhouette is so flattering for growing bumps. I love the vintage and romantic feel they exude – especially in white. And because they're fit loosely, you'll be able to get a good run out of these tops before you outgrow them. Pick shirts that are made in lightweight fabrics so they don't look like they're weighing you down a la moo-moo style.
Go global in harem pants – loose on the legs and fitted at the ankles, expecting moms can take advantage of this trend and look hip while maintaining an overall sense of comfort. It's a great day to night transition piece – just pair with sandals by day, and some kitty heels at night for a dressier look. Pick a pair in a muted print, and with a soft elastic waistband. If your belly is on the larger side, you can opt to wear the below your stomach.
Keep in mind that trends aren't for everyone. If something trendy doesn't work for you, don't force it. Stick with the basics and what looks good on you. Most importantly, remember that we're our own worst critics so try not to be too hard on yourself.
Pregnancy is one of the most special times of your life; you deserve to enjoy it. Wear what makes you feel beautiful and ultimately, what makes you happy.