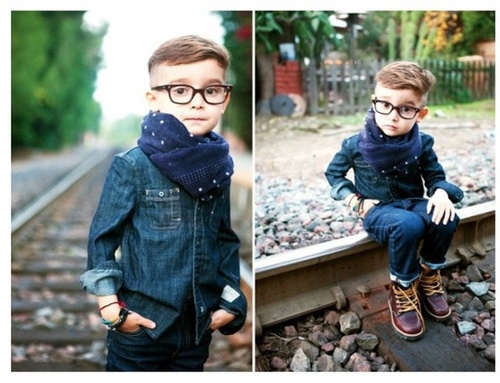 Frilly dresses, tutus, and pink sparkly jelly shoes. Cute baby girl stuff are, almost literally, a dime a dozen. But ever notice how it's far more challenging to find baby boy stuff that's both stylish and affordable? It's even tougher if you have baby celebrity styles you follow. My favorites are Kingston and Zuma (Gwen Stefani's boys) and Prince George (yes, THE Prince George). Trying to emulate their styles on my LO (if you don't know what this means, see "Mommy Acronyms Decoded" for reference) has burned holes through my wallet faster than a raging fire through a field of dry hay. From rock-inspired duds like fold-over combat boots, leather moto jackets, and studded baby jeans to traditional garb like smocks, wool cardigans, and those much-publicized Early Day shoes, these little dudes ALWAYS look enviably sharp. Granted, no doubt (pun completely unintended) that a pair of those studded baby jeans costs more than a lunch entree at Spago. But it doesn't have to be that way. Not if you're a savvy shopper like – ahem – yours truly. It's completely possible to dress our little boys like royals, while on a commoners' budget.
So, here are two main tenets you should adopt in order to achieve shopping success.
1-      It's all about knowing WHEN to shop. Find the right brands that carry the styles you like and follow their sales patterns. Except for luxury labels, pretty much every store has a sales pattern. It might take a bit to figure when the brands tend to have their best sales, but once you do, you can maximize your buck(s).
2-      It's about knowing WHERE to shop. Very important.
Here are some of my favorite go-to brands for trendy, but affordable, baby boys' clothing. You may recognize some brands immediately, while others might be lesser known.
Some that may surprise you:
1. H&M – the baby clothes are stylish, with just the right amount of spunk. You can find items that satisfy all style preferences – there are knit cardigans and page boy hats for the traditional baby, bowtie onesies and scarf bibs for the hip baby, and little denim jackets and knit beanies for the urban baby. I also love their selection of accessories – from high tops to baby bandanas and scarf bibs, to moccasins and trendy baseball caps. They have everything you need to deck out your baby boy.
2. Zara – their baby line is a perfect blend of classic, traditional and cool. More Prince George than Kingston, the selection is made up of mostly staple items such as jeans, shirts, little sweaters and jackets. The designs are whimsical and embrace a sense of playful childhood innocence. The baby clothes make me think "soft and luxe," like white seal pups wrapped in a cashmere throw. The quality is on par with labels you might see at Nordstrom, but the price points make it easier to justify to your husband when you've come home with yet another shopping bag.
3. Zulily.com – my latest obsession! This online retailer offers all things baby from different vendors and designers. "Events" are shown for a limited time, so this is when the "When" part comes in to play. It's a flash sale site, so in order to get the best deals, you have to act quickly and beat other shoppers to the punch before time, or stock, runs out. The best part is that many of the events feature very trendy clothes for baby boys and since everything is offered at a discounted rate, it's almost always affordable. It's like being at a rotating buffet of clothing and accessories.
4. FAO Schwarz at Babies 'R' Us –  I always love this line. Featuring fun appliqués, witty prints and imaginative graphics, it's super cute, extremely fun, and very creative. (Think onsies printed like tuxs, and t-shirts printed with faux suspenders and ties). Little ones can look like stylish mini adults but without all the hassle of actual components. The FAO selection is largest at Babies 'R' Us stand-alone stores. Split stores that have both Babies 'R' Us and Toys 'R' Us have a minimal selection at best. Oh-  and if you have a BRU or TRU coupon, use it!
And some more familiar, household brands:
5. Baby Gap – you'll find an array of choices at The Gap for your little guy. With the exception of black-tie formal wear, they have everything else under the sun – traditional, cool, athletic, formal, sleepwear, basic casual wear and accessories for your baby boy. Stylish, but functional; you get good-quality and chic choices at a good price. (I'm a big fan of their cardigans and you can usually find a similar matching cardigan for Dad at their sister brand Banana Republic). Watch for their 40% off sale – which seems to happen often. Oh, and they always have their sale rack nicely stocked too.
6. Old Navy – Its pieces range from fun & preppy to casual cool, but it's definitely less high fashion and more no-nonsense wear. On sale, you can find onesies as low as $4, twill shorts and jeans for as low as $10. (Serious bargain). Even regular priced items are reasonably priced.  While far from couture, the upside is that you can still buy trendy outfits, and you won't be heartbroken when your baby blows out in it after the first wear – which is why Old Navy is a mom favorite.
7. Carter's – Who hasn't heard of Carter's? While most of the clothes are more cute than trendy, pulling together a stylish outfit worthy of Hollywood playgrounds is completely doable with some creative mixing and matching. A big plus – the clothes are comfortable and easy to put on a squirmy baby. (Something I've now come to appreciate when you have a baby that doesn't possess neck control yet). Regular prices aren't necessarily a steal, but they're always having some sort of sale (and that's in addition to their clearance rack – which, by the way, is huge) so more often than not, you'll get a good deal. I'm a fan of their Collections line – it's got the most personality. And even though historically, most of their selections have been cutesy baby wear, recently, they've actually put out some looks worthy of making the "trendy" cut.  Keep it up Carter's.
8. OshKosh B'gosh – Whether you're going for a jock look, a laid-back look, a ready-to-play, not afraid to get dirty look, or a Harvard-bound baby look – there's something for every baby style. Personally, I think OshKosh carries styles that are a step above Carter's when it comes to fashion. The prints are less cute and more hip, and the outfit combinations can turn out to be pretty rad. I can definitely see the Rossdale boys rocking some of the gear. At clearance, a onesie can be as low as $3 and shortalls (how cute are they?) for around $9. And like Carter's, they're always having some kind of sale.
9. Target – Baby boy clothes here are a leg short of anything high fashion. Depending on the day and season, you may find a unique outfit here and there, but for the most part, the clothes are no-frills. Target makes the cut because it often features limited time collaborations with celebrity designers – the latest of such being Gwen Stefani's Harajuku Mini – and it's during the release of such collaborations that Target offers some pretty fashionable duds. The current feature at Target is G-Cutee, a line of dresswear for babies and boys. It's not a celebrity collaboration, but it has some seriously styling pieces. From fedoras, bow ties to mini tuxes and everything in between, little ones can dress apropos for any formal function day or night, at prices Mom & Dad will appreciate.
Of course, there are many more retailers in the market with high fashion offerings for baby boys, but these are just some of the players that offer both affordability and style. Because shelling out over $30 for a pair of jeans that my baby will probably only wear twice and likely outgrow in a matter of weeks just doesn't sit right with me. And just because most of us aren't rock royalty or part of a royal family doesn't mean our babies can't dress like it. Happy shopping!