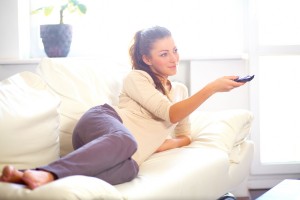 Missing your Game of Thrones or Grey's Anatomy now that summer is here? Us too. With networks catching on that we still like a little television entertainment even during the warmer, outdoor-friendly months, there are finally some good summer shows. We're not advocating for excessive tubetime, but the occasional weekend binge or weeknight hour focusing on our favorite character's fictional lives is a nice indulgence and escape any time of year. Here are five shows to check out this summer—two require a subscription to Netflix at $8.99 a month, but they're definitely worth the investment (or borrowing a friend's password…).
The 100 (Netflix)
Just wrapping its first season this June, The 100 is one of the most gripping shows out. With a huge twist at the end of what seems like EVERY episode, you'll be hooked from the pilot. Set 97 years after a nuclear war destroyed civilization, a large spaceship called The Arc houses what's left of the human race. One hundred juvenile delinquents are sent down from space to Earth to see if the planet is inhabitable again and they find that it is…sort of. The first season takes viewers through the 100's first few days and weeks on earth as it now is—full of disfigured animals, glowing butterflies, new romances and…other inhabitants. Season one is ready and waiting for you in its entirety.
Girls Meets World (Disney Channel, Fridays 8:30-9:00 p.m.)
Remember Boy Meets World? Cory and Topanga are all grown up, still married, and raising two kids in New York City. Riley is their oldest and much like Cory, with a good helping of constant anxiety and naivete. What did Cory grow up to be? Basically, Mr. Feeny. He's his daughter's seventh grade history teacher, doling out Feeny-like lessons in the form of taking away cell phones and assigning essays about what they would fight for. This coming of age story might remind you of your own coming of age alongside Boy Meets World. Great for kids and adults.
The Strain (FX, Sundays 10 p.m.)
Created by Guillermo Del Toro of Pan's Labyrinth and Hellboy fame, this new thriller vampire series is based on a trilogy of novels. The show centers around Dr. Ephraim Goodweather of the Center for Disease Control in New York City. His team are brought in to investigate a mysterious viral outbreak on an airplane and discover 200 dead bodies and 4 survivors. The corpsest start disappearing from the morgues and ties to vampirism start to appear. If creepy is your thing, this is the show for you.
The Leftovers (HBO, Sundays 10 p.m.)
This drama based on a Tom Perotta novel of the same name focuses on a small community after a global "rapture" claims 2% of the world's population. Justin Theroux (of Jennifer Aniston's fiancé fame) is the chief of police trying to maintain some sense of routine and order in the aftermath. The show focuses on the survivors in the three years since the catastrophic and unexplained event. Liv Tyler plays a prominent role as the target of a creepy cult named Guilty Remant…and who doesn't love Liv Tyler?
House of Cards (Netflix)
If any of these shows will lead to weekend binge watching, it's House of Cards. A political drama starring Kevin Spacey as Frank Underwood, the House majority whip and a ruthless politician, you'll be transported behind the political scenes in Washington, DC. Frank's cutthroat, at-any-cost, approach to politics and every other aspect of his life is only rivaled by his wife, Claire Underwood. You'll continually be hand-to-your-mouth shocked by their actions throughout the season, always trying to decipher their relationship and motives. The recipient of 13 Primetime Emmy Awards, this show was renewed for a third season for good reason.
Get your Vitamin D during the day and settle in with one (or three, or all!) of these shows this summer.