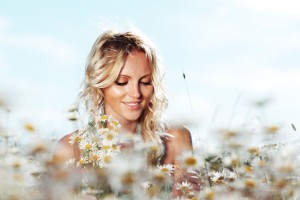 Good news, everyone! You can stop straining your necks looking for groundhogs, because spring has officially sprung! That's right, we have a lot of things to look forward to this season, like… spring cleaning. Cue the groans. But not all cleaning has to be a chore, especially when you're cleaning out that overflowing make-up drawer in the bathroom. That actually sounds like fun, right? While you're out-with-the-old-ing, you might as well rid yourself of any leftover beauty trends you're holding on to from the winter.
Here are our top 5 Beauty trends that you should skip now that it's spring:
1. Super Dark Lipstick: Lighten up this spring. Nudes on the lips with minimal liner, or brighter tones like oranges, will have you looking fresh but still totally kissable.
2. Red Nail Polish: Forget the Christmas reds. Even forget their spring-chicken cousins, our go-to corals. Keep your nails super trim and coat them with pastels, like mellow mints and yellows. Even just a clear coat with a French tip will help you embody the freshness of the season,
3. Heavy Eye Shadow: Brighter colors like lavenders, baby-blues and sunshine yellows will have the flowers that are sure to bloom this spring absolutely jealous of your peepers.
4. Smudgy Liner: Say "bye-bye" to that goth/punk/vampiress persona you were channeling last winter. She was useful during the gloom, but the sun's out now. Embrace the retro movement with graphic eyeliners and angular shapes.
5. Ponies: This might be a bit hard for some of us – ponies are always a quick hair fix for the girl on the go. Braids – like a crown or a side-fishtail – are just as quick and a great alternative, however. Word of advice: Think less Maria from The Sound of Music and more Maison Martin Margiela.