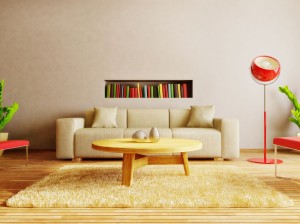 Are you itching to give your living room some new life, but don't have tons of money to spend? Worry not! Here are five quick and inexpensive ways to dress up a living room.
Frame it – an eye-catching gallery wall is a surefire way to add immediate interest and focus to your living room. And while purchasing a ton of brand new frames can seem expensive, it doesn't have to be. Check out more affordable sources like IKEA, or even thrift shops for vintage frames at a steal!
Invest in artwork – Even one piece of  striking artwork can really create a definitive focal point of your living room . Artwork can range from major bucks to inexpensive prints, that when placed in a nice-looking frame, can really transform a dull living room into something modern and fresh.
Get a new rug – A rug really ties together a room. If you previously had a neutral color rug (or none at all,) change it up with something bright and patterned. You'll be amazed at the huge difference in feel one piece can bring to a room. And did you know you can get a rug shipped form Overstock.com for FREE no matter how big it is?! Or, oftentimes private carpet companies can offer you a significant savings on scrap carpet pieces made into rugs.
Clear the clutter – We all have it. That stack of unread magazines sitting over there, or a collection of ticket stubs you've been meaning to display over there. Take a good hard look at all the little bits of clutter you have lying around and start tossing things. Can't bear to part with your things? Then at least find a clever way to hide the mess with a nice container or clever shelving unit with hidden storage.
Get new curtains – Like the rug mentioned above, new curtains can breath new life into an otherwise stale living room. While brand new curtains can run the gamut in prices, it's really not that hard to DIY if you have even the smallest bit of sewing skills.