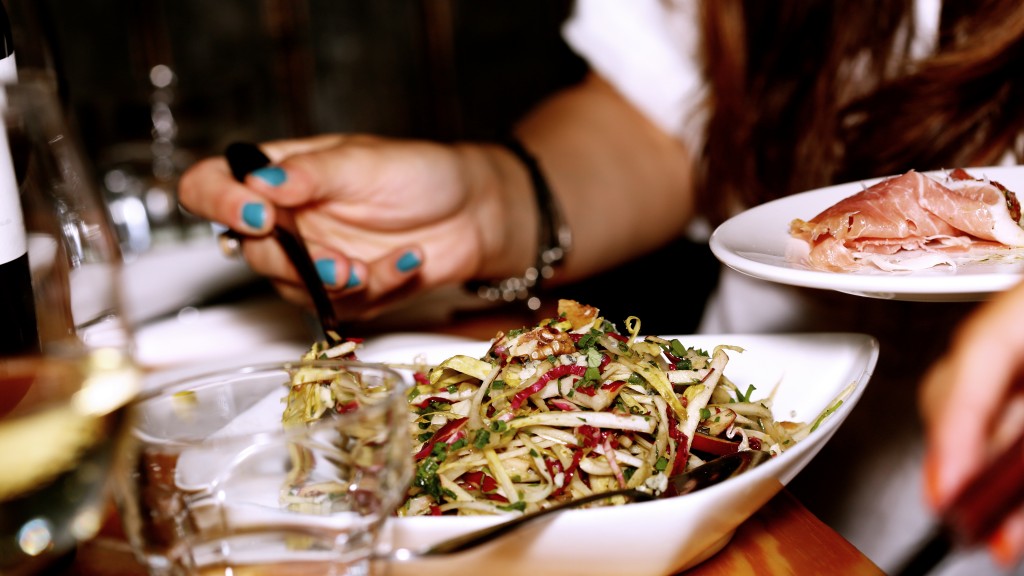 Valentine's Day is today! Whether you plan to spend the day with a significant other or with a group of friends, you might be thinking to yourself: "Maybe I should whip up a little something for dinner." If you don't have anything in the works already, why not plan a good meal? From beginning to end, it would be a thoughtful idea to hit the farmer's market, pick up some items for a multi-course dinner, and engage each other in some interesting conversation. If Valentine's Day is about love, it doesn't matter if you are single or attached, spread the feeling of truly caring about one another through a home-cooked meal. Here, Weekly Sauce gives you the blueprint on how to set up the best Valentine's Day ever without even having to make a reservation.
Salad | Roasted Beet Salad With Goat Cheese, Walnuts & Honey Dijon Vinaigrette
Just because you plan on indulging doesn't mean you can go off the deep end. You've got to keep it healthy — for the most part. This salad is the perfect way to prepare your palate for an evening of dining well without starting off too heavily. The pairing of flavors and textures in the ingredients are sophisticated and surprisingly easy to put together on your own. Try this recipe [serves four to six people] from Once Upon a Chef.
For the Beets
1 bunch medium beets (about 3)
1 tablespoon extra virgin olive oil
For the Salad
10 ounces mixed greens (I like a blend of frisée, radicchio and mesclun)
3 ounces goat cheese
1/2 cup walnuts, coarsely chopped
For the Vinaigrette
2 tablespoons honey
1-1/2 tablespoons Dijon mustard
3 tablespoons red wine vinegar, best quality such as Pompeian Gourmet
1-1/2 tablespoons minced shallots
1/2 teaspoon salt
1/4 teaspoon ground black pepper
6 tablespoons vegetable oil
Appetizer | Mussels in White Wine Sauce
We love the idea of having a fine dining experience at home. With that said, these Mussels in a White Wine Sauce are ideal for setting the mood. Certain types of shellfish can be tricky to cook at home, but if you have the right tools and no one has an allergy, try this recipe from A Beautiful Bite.
In fact, here are a couple rules of thumb when it comes to prepping the mussels, straight from A Beautiful Bite:
"Some people are intimidated over cooking with mussels. It's really quite simple. Here's what you need to do…
Ask your grocer or fish monger if the mussels are farm raised. If they are farm raised, then that means that they will not be sandy. No need to soak them. Also, farm raised mussels usually have the beards removed before they are bagged. So the takeaway is to look for farm raised mussels if you want less work.
If the mussels are straight from the wild, then they need to be soaked in a bowl of water that has some cornmeal in it. The mussels will suck in the cornmeal/water mixture which will purge the sand out of their system.
If you have three to four pounds of mussels, place them in a large bowl of cool water with about 1/2 cup of cornmeal mixed in. Let them sit in this bath for about 30-45 minutes. Dump the soiled water out and give the mussels a good scrub with a scrubber pad. Then you will be good to go.
The other issue people have is the fear of not recognizing dead mussels. To find the duds, look at the shells. Are they tightly closed? Those are the good ones. If they are open, give them a tap on the shell. If they close, they're fine. If they stay open, toss them out.
That's the basics of mussels. Not so scary, right?"
This elegant dish is the perfect appetizer to prepare kicking off your Valentine's Day feast.
Ingredients
4 lbs mussels
3 Tbsps butter
3 Tbsps olive oil
½ cup shallots, chopped
6 garlic cloves, minced
2 medium tomatoes, seeded and diced
½ Tbsp dried thyme
1¼ cup white wine
¾ cup chicken broth
2 Tbsps lemon juice
2 tsps kosher salt
½ tsp red pepper flakes
A few good cranks of fresh ground black pepper
¼ cup flat leaf parsley, chopped
1 Tbsp lemon zest
Main Course | Truffle Lobster Mac & Cheese
Truffle oil is an acquired taste, but everyone ought to try it at least once. Those who love the smell and taste of truffles can't get enough of it, while others may only be able to take a couple drops of the stuff. Still, this recipe for Truffle Lobster Mac & Cheese from Cooking for Bimbos looks like a winner. A decadent twist on a home-cooked favorite, pair this with a serving of spinach and you ladies are good to go for your main course.
Ingredients
1 pound pasta ( I like using twists, or elbow macaroni)
1 stick butter
1 pound lobster meat (cooked or uncooked)
1/2 cup all purpose flour
1 quart whole milk
pinch nutmeg
8 oz sharp Cheddar, grated
12 oz Gruyere cheese, grated
1 tablespoon truffle oil
salt
pepper
breadcrumbs
Dessert | Sticky Toffee Bread Pudding
You've been on your best behavior (for the most part) all night long, noshing on some pretty healthy bites from beginning to end — but now it's time for some real indulgence. After all, that's what dessert is for, no? Sticky Toffee Bread Pudding is always phenomenal, and it's the best way to cap off your Valentine's Day meal. Take a look at these instructions on how to make it from No Recipes.
Ingredients
3 extra large eggs
2 cups whole milk
1/2 cup heavy cream
60 grams sugar – light brown (about 1/3 cup)
1 vanilla bean
500 grams stale sandwich bread (cut into 1-inch cubes)
3/4 cup date syrup
4 tablespoons butter – cultured unsalted (cut into small cubes)