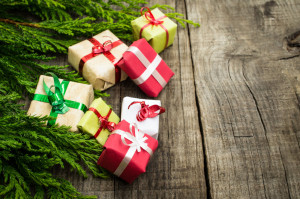 The holidays are approaching very quickly. Almost too quickly. Anyone else notice how fast this year went by? We're not complaining because honestly, it's the holiday season and we kind of love any reason to have a party and celebrate something. We're also trying our best to start finding gifts as early as possible, which is why we are going to share some of these awesome and unique gift ideas with you today.
1) Floppy Disk Coasters – These are pretty much perfect for anyone who is friends with, dates, or otherwise knows someone who has been part of the computer generation who used a floppy disk.
2) USB Astronaut Light – This is the greatest reading light we've ever seen in our lives. Literally. It's so adorable we may throw our computer across the room out of excitement.
3) Heisenberg Cuff Links – For the ultimate Breaking Bad fan; one who is missing the show as much as we do!
4) Viking Drinking Horn – We have one friend in particular who could use one of these, and maybe you do also!
5) Make Your Own Bubblegum Kit – Sure, you could just go buy the ingredients from the grocery store, and make the kit yourself, but it's also pretty cute to get it fully put together already. This would be a great gift for kids!
6) Shot Glass With Chaser – This is a great one for friends who like to party.
7) Bear Feet Slippers – We like to think that these are the adult version of the traditional bunny slippers.
8) Snow Globe Salt & Pepper Shakers – These are an adorable gift for anyone who likes to eat. And likes cute things.
9) Dinosaur Planters – A perfect gift for a friend or family member with a quirky sense of home decor. We kind of want to buy all of them.
10) Pizza Slice Bean Bag Chair – We're ending with this one because, well, pizza.