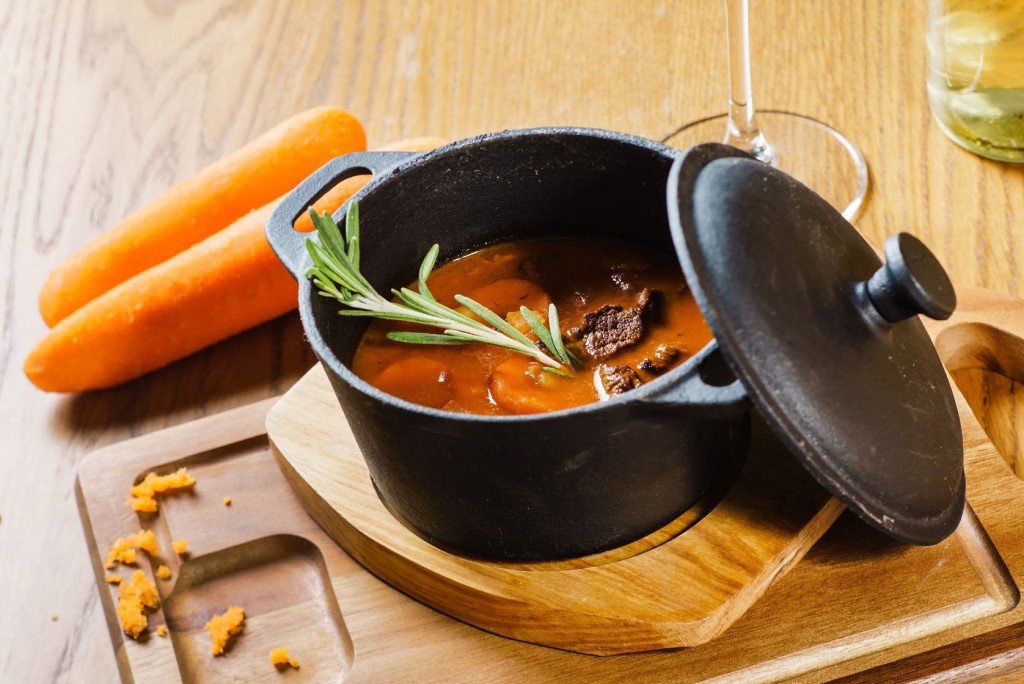 For most of the country (not so much out here in Los Angeles) winter has taken hold, bringing with it blustery days, cold nights, and winter vegetables. Here are a few of my favorite recipes utilizing a few of this season's yummiest attributes.
Winter Vegetable Hash
(6 servings, 223 calories each)
Prep Time: 15 minutes
Cook Time: 35 minutes
Ready In: 50 minutes
Ingredients
3 tablespoons olive oil
2 tablespoons butter
1 pound Yukon Gold potatoes, diced
1/2 pound fresh shiitake mushrooms, diced
1 red bell pepper, diced
1 small acorn squash, diced
1 shallot, finely chopped
2 teaspoons garlic powder
1 pinch salt
1 pinch ground black pepper
1 cup chopped kale
4 sprigs fresh sage
Add all ingredients to list
Directions
Place oil and butter in a large skillet over medium heat. Melt butter and mix in potatoes, mushrooms, pepper, squash, and shallot. Season with garlic powder, salt, and pepper. Cook 25 minutes, stirring occasionally, until potatoes are tender.
Mix kale and sage into skillet. Continue cooking 5 minutes, until kale is wilted. Serve and savor!
Carrot-Parsnip Soup w/ Parsnip Chips
(6 servings, 159 calories each)
Ready In: 1 hour 20 minutes
 Ingredients
2 tablespoonsolive oil, divided
2 1/2 cupschopped yellow onion
3 cupscoarsely chopped parsnip (about 1 pound)
3 cupswater
2 1/2 cupscoarsely chopped carrot (about 1 pound)
2(14-ounce) cans fat-free, less-sodium chicken broth
1/4 teaspoonsalt
1/4 teaspoonfreshly ground black pepper
1/2 cup(1/8-inch-thick) slices parsnip
1 tablespoonchopped fresh chives
Directions
Heat 1 teaspoon oil in a Dutch oven over medium heat.
Add the onion, and cook 10 minutes or until tender, stirring occasionally.
Add chopped parsnip, water, carrot, and broth; bring to a boil.
Reduce heat, and simmer 50 minutes or until vegetables are tender.
Remove from heat; let stand 5 minutes.
Place half of carrot mixture in a blender; process until smooth.
Pour pureed carrot mixture in a large bowl. Repeat procedure with remaining carrot mixture.
Stir in salt and pepper.
Heat remaining 5 teaspoons oil in a small saucepan over medium-high heat.
Add parsnip slices; cook 5 minutes or until lightly browned, turning occasionally.
Drain on paper towels.
Sprinkle parsnip chips and chives over soup. Serve and savor!
Baked Stuffed Winter Squash
(6 servings, 466 calories each)
Prep Time: 15 minutes
Cook Time: 1 hour 5 minutes
Ready In: 1 hour 20 minutes
Ingredients
3 acorn squash, halved and seeded
1 tablespoon olive oil
1 medium onion, chopped
1 stalk celery, chopped
1 pound sweet Italian sausage
1 teaspoon dried thyme
1 egg, beaten
1/2 cup dry bread crumbs
1/2 cup raisins
1/2 cup chopped pecans
Add all ingredients to list
Directions
Preheat oven to 350 degrees F (175 degrees C).
Place squash halves cut side down in baking pans. Fill pans with about 1/2 inch water. Bake squash 40 minutes in the preheated oven, or until tender.
While squash bakes, heat the oil in a skillet over medium heat. Place onions and celery in the skillet, and cook until tender. Stir in the sausage and thyme. Cook and stir until evenly brown.
Remove squash from the oven, and carefully scrape the pulp from the rinds. Set rinds aside. Place the pulp in a bowl, and mash with a potato masher. Mix in the cooked sausage mixture, egg, bread crumbs, raisins, and pecans. Scoop into the reserved rinds. Set stuffed squash in the baking dishes.
Bake 25 minutes in the 350 degrees F (175 degrees C) oven, until heated through.
Serve and savor!