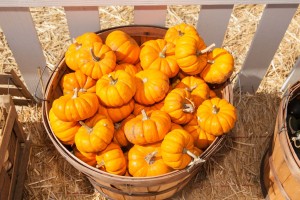 Fall has at last arrived, and what better way to celebrate the season than by livening up your living space with a few seasonal touches? Here are five simple ways to bring the spirit of autumn indoors.
1) Bring on the pumpkins. Even if you're not a big Halloween person, pumpkins just scream fall, and make an easy decorative accent. If you don't want to worry about rotting fresh pumpkins, opt for the fake kind instead. Or, take it up a notch, and head to your nearest craft store to purchase an inexpensive Styrofoam version and spray it in gold or silver for an extra chic and modern look!
2) Swap out your couch pillows. Gone are the brightly colored lightweight ones from spring/summer. Instead, think rich colors like jewel tones and deep gray in thick fabrics like velvet or chenille. A quick and easy swap can make all the visual difference in the room.
3) Get some new candles. There's something so cozy about candlelight during the fall season. Opt for versions in fall-like colors (rust, copper, orange, gold, red) and create an arrangement on your coffee table or in your foyer. And if you're lucky enough to have a fireplace, light that thing up! 'Tis the season, after all!
4) Treat yourself with flowers. Nothing spruces up a living space more than fresh (or fake) flowers, and fall is a great time to experiment with variety. Warm sunflowers will brighten up any room, or an exotic arrangement of peach/orange-hued blooms will add a nice pop of color.
5) Wreath it up. Come this time of year, many people start pulling out those holiday wreaths from the garage. Instead of going with an all-out holiday theme with yours, try your hand at making or finding a more subtle autumnal wreath. Add on a burlap bow or twine burlap through the wreath for an extra rustic touch.   Weave in some artificial flowers in complementary colors, and voila! A gorgeous hanging for your front door, mantle or even a bookshelf.
Do you have any other tried-and-true fall decorating ideas? Do share!