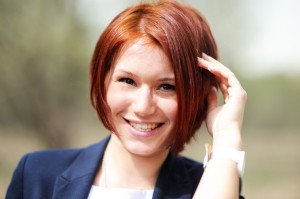 Ringing in the New Year signals a fresh start, a clean slate if you will—an opportunity to right last year's wrongs and turn over a new leaf.  Whether that entails a gym membership, an oath to keep your house tidied, the end of a bad relationship or, perhaps, a re-commitment to a good one, every year, January 1st ushers in an overall sense of self-improvement—or, at the very least, change.  This is never more obvious than in the world of beauty.  If you listen closely enough as the ball drops in Times Square, you can almost hear last year's hottest trends being tossed out alongside empty champagne bottles as the powers that be hatch their plans for this year's latest and greatest.  So, if your New Year's Resolutions include a new look—a rejuvenated you—here are a few of 2014's must-haves.
Paint 'Em Red—Deep Red
Red lips are nothing new in the world of beauty—they're classic, timeless, a statement of combined confidence and sensuality.  For 2014, however, the who's who of fashion and beauty are taking the crimson pout a few shades deeper.  A carry-over from fall fashion, which saw grunge-inspired clothing and mid-'90s beauty flashbacks, deep-wine Bordeaux is the must-have lip shade for 2014.  Whether you were blessed with a full, pouty pucker or you were left wanting in the lip department, deep red lips are the way to go.
Lose the Locks
Hair trends are ever-changing ebb and flow between long and short.  If you're looking to transform your tresses, consider going a bit shorter.  Both pixie cuts and sleek, side-parted blunt bobs are emerging as 2014's hot hair look.  Many celebrities and stylistas are opting for shoulder-length bobs with heavy, brow-kissing bangs.  Whenever hairstyles are concerned, however, it's best to forego sticking to the trends and opt for a do that works for your hair type, facial structure and lifestyle.  So, perhaps even a customized version of one of these cuts would work best for you.  And if trimming your tresses is out of the question, fear not—I've included a trendy long lock-look that's sure to wow.
Be Proud of the Brow
It's often said that the eyes are the windows to the soul.  With this in mind, it only makes sense to enhance your most expressive, tell tale facial feature as much as possible.  For 2014, dark, bold eyebrows are the way to go.  On this note, put down the tweezers!  Thin, overly plucked brows are out (that's if they were really ever "in") and instead, are being replaced by fuller, more natural looking eyebrows.  Thin brows make the face appear wider and the eyes seem tired, so stop plucking and start darkening.
Boho Braids
If you'd sooner cut off an arm than your hair, trends be darned, then consider a retro '70s glam look with bohemian-style braided up-dos.  Easy, low-maintenance and ultra chic, boho braids are all the rage for this year's hottest hair.  And don't worry about neat, polished braids, as today's trendsetters are opting for a more relaxed, messy look.  Boho braids radiate urban glamour and sexiness while allowing even the most style-challenged to accomplish a hot, trendy look with minimal effort and skill.
Make Them Pop
The eyes are a constant focal point when it comes to beauty trends—be it a smoky eye, an understated eye, a dramatic eye and so on, many people place more importance on their eye makeup than whether they're wearing matching shoes.  For 2014, it's all about smoky blue lids and the slightly overstated cat-eye.  While both styles weave in and out of popularity, never truly becoming "old," this year is seeing an especially strong resurgence for both.  So whether you opt for dark, dramatic cat-like lines or a bright blue lid, just make them pop.