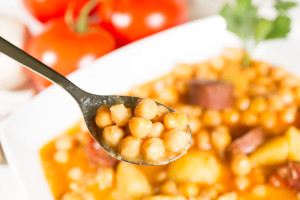 This is a delicious, easy, one-pot dish that will keep your tummy full, family happy and soul warmed this winter!
INGREDIENTS
2 tbsp extra virgin olive oil
4 chicken thighs, bone in, skin on
1 onion, peeled and diced
2 carrots, peeled and sliced into rounds
3-4 garlic cloves, crushed
1 cup chicken broth (low sodium okay), or more if needed
1 can (14 oz) diced tomatoes (or 1 3/4 cups ripe diced tomatoes)
1 can (14 oz) chickpeas, drained and rinsed (or 1 3/4 cups cooked chickpeas)
1 roasted red bell pepper, skinned and sliced – learn to roast a bell pepper here
1 tsp smoked paprika
1/2 tsp cumin
1/4 tsp turmeric
Pinch of cayenne (or more to taste)
1/3 cup chopped cilantro (or substitute flat leaf parsley), divided
Salt and pepper
YOU WILL ALSO NEED
Total Time: 1 Hour 25 Minutes
Servings: 4
Directions
1. Sprinkle chicken thighs lightly with salt and pepper. Heat olive oil in a sauté pan with high walls over medium heat till hot. Place the chicken thighs into the hot oil, skin side down, and turn heat to medium high. Brown the thighs for about 10 minutes, flipping once halfway through, till thighs are browned on both sides and skin is golden and crisp. Remove the thighs from pan. Do not drain the fat or juices from the pan.
2. Add the minced onion to the pan and cook for 5-8 minutes till softened.
3. Add the carrots and cook them for 5 more minutes till the onion starts to caramelize. Add the garlic and cook for 2 minutes more till fragrant, stirring and scraping up the brown bits from the bottom of the pan as the mixture cooks.
4. Add the chicken broth, diced tomatoes, chickpeas, roasted bell pepper, smoked paprika, cumin, turmeric, cayenne, and 3 tbsp of the chopped cilantro or parsley. Careful with the cayenne when adding to taste, it's extremely spicy. I like to add ¼ tsp of cayenne, which gives the stew a nice spicy kick.
5. Stir the mixture and bring to a boil. Add salt and pepper to taste (I usually add about ½ tsp of salt or less depending on how salty my chicken broth is). Reduce heat to a simmer. Put chicken thighs back in the sauté pan and ladle sauce over them. Cover the pot, vented on one side, and let the stew simmer for 45 minutes, stirring occasionally.
6. Uncover the pot. Continue to simmer for 15 more minutes till the liquid reduces and the sauce starts to thicken.
7. Remove cooked chicken thighs from the sauce. Remove the skin and discard. Cut meat from the bones in small shreds. Discard bones and any excess fat.
8. Return the chicken shreds to the sauté pan and stir to combine. Simmer till heated through, or until the sauce is thickened to desired consistency. If the stew seems too dry, add a little chicken broth to rehydrate.
9. Remove from heat and sprinkle with remaining 2 tbsp chopped cilantro. Serve over cooked quinoa, couscous or brown rice.