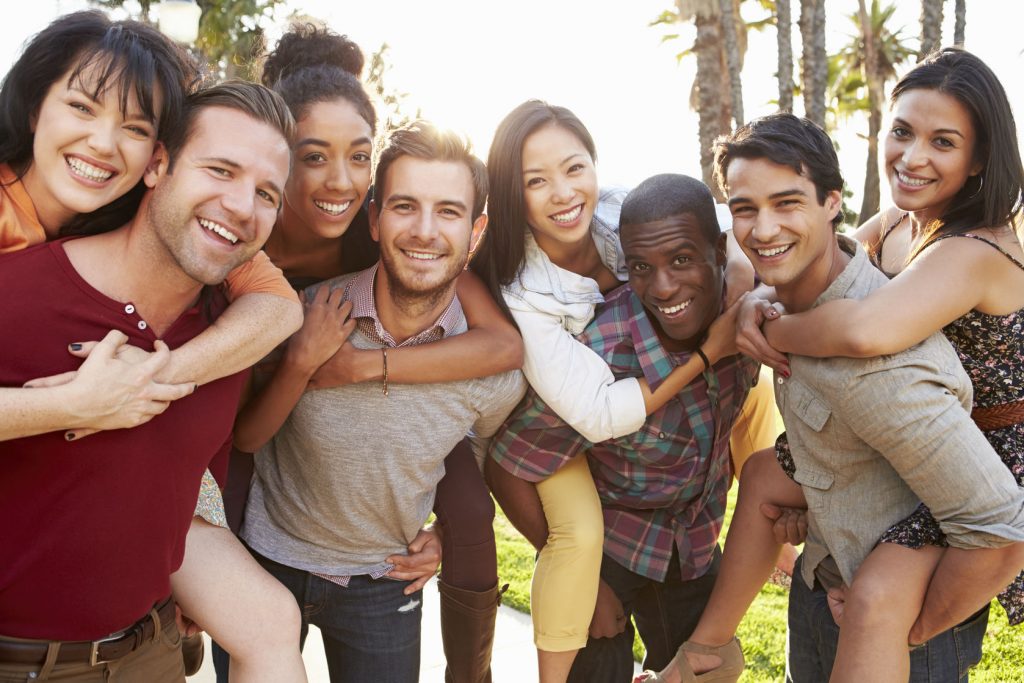 Remember when you were younger and going outside to play with your friends was all you wanted to do after school? And at school? And all summer? These days, "playing" consists of getting dressed to go out and having a few cocktails, maybe meeting a guy and doing a little dancing. That's all. And that's cool, but there's nothing wrong with playing for real, just like you guys did back in the day. As we get into the warmer months, it may not be a bad idea to revisit the days of your youth and call up some buddies for some outside fun — whether you're on land or in the water, In swimsuits or leggings. Consider this: burning calories is a plus, and you can work on building camaraderie while doing something different for a change. Get off the computer, put your work away, grab your sneakers and your water bottle, and go play.
Tag
You guys may need to head to the park for this one. Find some wide open space and get to it. For a real throwback, make it a game of Freeze Tag. Choose your "bases" (or safe zones) and don't forget, once you're tagged in this version you have to "freeze" until one of your allies — who isn't 'It' — tags you again in passing to "unfreeze" you.
Double Dutch
When you become an adult, it's called double dutch aerobics. Either way, it's still as fun as it was back in the day. And if you're from an inner city, it's likely that you've seen teenage girls in the street, popping their gum and jumping to a rhyme or two. If you grew up playing double dutch, you'll find that it's as easy as riding a bike. If you don't have an official rope on-hand, go retro and buy a 50-ft phone cable. Double the cable and it's essentially the perfect length and weight to use for double dutch. You'll need at least three people in order to play.
Kickball
This game is one of the more popular options for grownups these days. There are even kickball leagues from city to city and popup games everywhere. Just do a quick online search and find one closest to you.
Water Wars
Head to your friends' house if they have a yard and be sure to have your water balloons in hand. Since you're grown now, maybe you can afford one of those fancier neon water guns that you wanted as a kid — bring that and a towel.
Bike Ride
More and more cities are becoming biker-friendly — even New York has been more open to people going for a ride. Gather a group of friends — or if you'd like to head out on your own, all the power to you — and look into the best routes in your town or create your own. You can buy a decent bike from a thrift store, or head to a neighborhood close by where bikers rule; most times you can rent one from a shop.
Photo Scavenger Hunt
This one will be fun to plan! Make the prize something that would appeal to either gender; for instance, a gift certificate to the hottest eatery in town would work for most people. Then get started: choose a theme — "reliving our youth" might work — and give everyone a list of what to look for. An ice cream truck, people playing soccer or basketball, or a set of yellow monkey bars would all be good clues for this theme. They can use their phones to take the pictures, but the list must be in the shot as well. Whether they're riding bikes or running the streets, either way works.
Trapeze Classes
The trapeze was awe-inspiring when you were a kid at the circus, but now that you're grown, you can partake in the fun — if you aren't terrified of heights, that is. There are quite a few facilities that offer these classes now, so choose a couple of your most daring buddies and sign up for a few.
Hike
This activity is a pretty easy one to get your girls to agree on. Not everyone likes to run, but a good hike on a sunny day is perfect for working out those neglected muscles and stealing some much-needed quality time with your favorite people. You'll find that if you guys haven't had the chance to hang out, this hike is the perfect opportunity to get caught up on each others' lives — and juicy gossip — without it feeling like exercise.
Tubing
Find some water in your area and do research on whether or not the facility that maintains it offers tubing as an activity. You may not want to be tied to a speedboat, but free-floating is pretty fun. The company usually provides the tubes, so all you'll need to do is come in your swimsuit, bring a towel, and sunscreen. Use your hands to paddle and keep your friends close — you guys will have a blast!