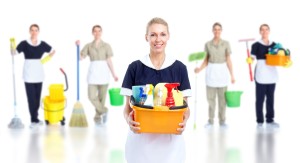 A clean home is a happy heart. But for busy professionals, moms with their hands full, or anyone who is not into folding their own laundry, there's not always time– or the will– to bust out the vacuum or open the washing machine. Let's not even get started on the pending and often dreaded Spring Cleaning. If you've swept all hope of a clean home under the kitchen rug, Handybook, a new start-up that allows users to book pre-approved cleaners and handy workers, might be the answer to the problem at hand.
"You don't have to think about maintaining your home. We'll think of it for you," or so says Handyman co-founder Oisin Hanrahan. Doesn't that all sound nice?
Beyond house cleaning Handybook also provides a wide range of services from: plumbers, handymen, and electricians. If you need someone to mount your TV or fix a broken water heater, they can make that happen.
"Handybook is quite simply the easiest way to get stuff done around the house," says the company. "Within a couple of minutes, you can book a pre-approved cleaner or handyman for whatever time you like. All you have to do is tell us what you need to get done, where you live, and what time works for you, and we do the rest!"
Which means, no more wading through Yelp reviews or phoning friends for referrals. Handybook puts everything in one handy-orientated in place. The company currently operates in eight cities, with plans to add five more by month's end. It also rolled out an updated mobile app on Monday.