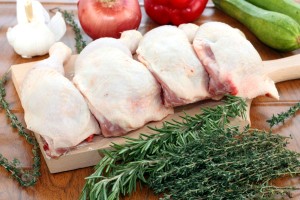 This recipe is, without argument, the WORLD'S BEST CHICKEN!  I love chicken and have tried numerous recipes—I've even done a variation of this exact recipe using honey mustard.  But this recipe blows all others out of the water.  While the ingredients call for Dijon mustard, I sometimes make it with ¼ cup Dijon and ¼ cup whole grain, spicy brown mustard and it turns out just as incredibly yummy.
Ingredients
4 boneless, skinless chicken breasts
1/2 cup Dijon mustard
1/4 cup maple syrup
1 tablespoon red wine vinegar
Salt & pepper
Fresh rosemary
Directions
1. Preheat oven to 425. In a small bowl, whisk together mustard, syrup, and vinegar.
2. Place chicken breasts into 9×13 lined baking dish. Season with salt & lots of pepper. Pour mustard mixture over chicken. Make sure each breast is coated. Put some more pepper on, if you please. No need to marinate, but be sure to LINE the dish, as baked-on mustard is no fun to scrape off during the cleaning process!
3. Bake for 30-40 minutes, or until meat thermometer reads 165 degrees. Exactly how long you should leave it in is based on personal preference and your oven. For those of you who like your chicken borderline dry, leave it in for the full 40 minutes—you can also increase your oven to 450 so the flavors really bake into the chicken.  This is where the foil lining will REALLY come in handy!
*For those of you slow-cooker fans, this dish can be made very easily in the crock pot and comes out equally as delicious.  Prepare the sauce as instructed above, coat the breasts then place them in your slow cooker on Low for 3-4 hours.
4. Season with fresh rosemary and serve!  Be prepared for this dish to be requested regularly by your family and/or guests!