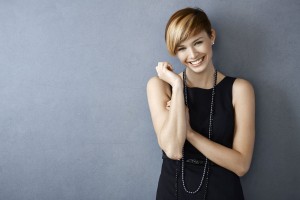 It's holiday party season time which means you need to find yourself a great outfit to wear. Whether it's the office winter bash, or a NYE out on the town, we've got you covered with some great, affordable little black dresses. Sure, we could find sequin attire to match the sparkling decor of the season, but we wanted to offer up something that could be worn AFTER the metallic ornaments have been packed away.
If you don't already own a little black dress, what on earth have you been doing all these years? It really is a staple for any woman's closet, and there are some super affordable options out there.
Here are some that we love!
1) Show Off Sheath Dress – We love the cut outs on this dress. They are subtle, but still totally sexy, and they help you show off some skin without being inappropriate for a work gathering. (Maybe not the best if you work at a law firm, but we come from the world of radio, so who knows!)
2) Glam Goddess Mesh Dress – This is one to keep packed away until New Years, and there are only certain women who could pull this off, but a lady can dream, so it's going on our list!
3) Fitted Dress by H & M – This dress will never go out of style, and we think the seaming is really interesting. You could wear this one again, but to work,  with a colorful cardigan and stockings, and we bet nobody would notice!
4) Long Sleeved Lace – We are obsessed with long sleeved lace dresses, and this one is no exception. The turtle neck makes it appear a bit more conservative, but the lace brings in the edge. We love that combination.
5) Bar III Mini Dress – Bar III is one of our favorite brands at Macy's, and we think the draping of this dress is really lovely. We may have to run and purchase this one right now!