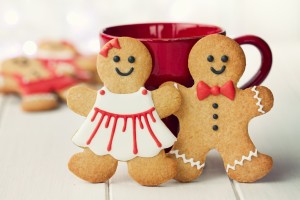 It's almost that time of the year. You know, the one where you get to make cookies and cakes and candy and eat as much as you want and gain five pounds because screw it, it's the holidays! Oh yes, friends, the holidays are officially here and while some writers may be giving you ideas on how to control yourself this year, we're here to give you recipes for all of the sweet treats you could ever want.
This post is all about the holiday cookie. Santa is in for a serious haul this year!
1) Hazelnut Meringues – Hazelnut is an amazing holiday ingredient that should be used as often as possible. Well, at least in our humble opinion it is. We also love that these are made with only four ingredients. These would be adorable wrapped in a little bag and a bow as a present for co-workers or as a food favor for a party!
2) Chocolate Stuffed Gingerbread Cookies – We LOVE gingerbread. Seriously. And home-made gingerbread is out of this world. If you haven't tried making it yet, this is your year! Go for it! And this recipe adds in some chocolate, which is never a bad thing!
3) Crackle Cookies – These cookies always scream holiday time to me. Maybe it's the powdered sugar, but it just looks like a winter dream but with chocolate!
4) Double Chocolate Peppermint Cookies – We can't mention holiday cookies without adding a peppermint cookie! Since we're on a chocolate kick, clearly, we went with this delicious double chocolate peppermint recipe.  Chocolate and mint, always a good combination!
5) Hot Chocolate Cookies – If you plan to leave a glass of milk for Santa this year, why not make it themed with this awesome hot chocolate cookie recipe. Maybe even leave him a glass of warm drinking chocolate as well?
Enjoy!