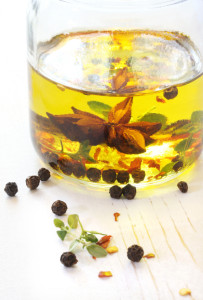 The thought of making my own homemade salad dressing recipe used to intimidate me, but after having tried it, I'm a convert! It's super easy, affordable and healthier than the store-bought versions (seriously, just read those labels, it's surprising how much sodium and sugar get added to some of them!) Not to mention they're super tasty. If you've always wanted to try it, but been too scared, here are some easy homemade dressing recipes to get you started.
This is one of my favorite go-to dressings. It's made with things you probably already have around the pantry, and takes all of 3 minutes to make. A win-win! I like to double the recipes if I'm making a really big salad.
Red-Wine Mustard Vinaigrette (courtesy of Orangette)
1 Tbs Dijon mustard, preferably Grey Poupon
3 Tbs good-quality red wine vinegar
½ tsp fine sea salt
5 Tbs good-quality olive oil
Combine mustard, vinegar, and salt in a small bowl, and whisk to combine. Add the oil one or two tablespoons at a time, whisking continuously to emulsify. Taste to correct vinegar-oil balance, if necessary, and toss with your favorite salad ingredients. The dressing will keep for up to two weeks in an airtight container in the refrigerator.
—–
If you're looking for a creamier dressing, this may be the one for you!
Honey Mustard Dressing (from All Recipes)
1/4 cup mayonnaise
1 Tbs prepared mustard
1 Tbs honey
1/2 Tbs lemon juice
In a small bowl, whisk together the mayonnaise, mustard, honey, and lemon juice. Store covered in the refrigerator.
—–
If you've just gotta have your ranch, but can do without the extra sodium and additives, try out this creamy and delicious recipe.
Buttermilk Dressing (from Food & Wine)
1 small clove garlic, smashed
Salt
3 Tbs sour cream
3 Tbs mayonnaise
1 Tbs white wine vinegar
1/4 cup buttermilk
Freshly ground pepper
Sprinkle the garlic with a pinch of salt and mash to a paste. In a bowl, whisk together the garlic, sour cream, mayonnaise and vinegar. Whisk in the buttermilk and season with pepper.
Variations: Blue Cheese Dressing Add 2 ounces crumbled blue cheese.
Tzatziki Dressing Add 2 ounces crumbled feta cheese and 1 tablespoon chopped dill.