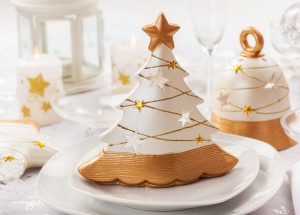 If you've been following along with our articles here on Weekly Sauce, you know we love to throw a good party. The holiday season is obviously a great time to do just that, and finding great decor to go along with the theme is a must. Sometimes we like to go all out and just really embrace the traditional holiday decorations, but other times we like to make it more chic and play into the colors of the season, but maybe not go full fledged with the characters.
You can go ultra modern, find designs that look similar to the items you'd see in the season, or just follow the color scheme and forget the characters all together.
Today we're sharing with you some great table decor we've found online that will spice up your holiday meals.
1) Silver Glitter Bird Clips – These would be adorable clipped to some ribbon and used as napkin holders. You could also add them to garland and run it down the center of the table. If you are having a larger party, you could also clip them to every other place card for some added decoration.
2) Lily Candle Holder – We love the antique brass look of these mid-century inspired candle holder. They add something very special to the look of the table, but with a subtlety that we really adore.
3) Metallic Ombre Glassware – This is a find that we are hoping will end up under our tree this year. HINT HINT. These would be GORGEOUS on a table with a metallic theme, or an all white plate set with these next to it. Drool.
4) Red Crafted Dinnerware – The color of these bowls screams Christmas, and with the right accents on the table, this is as chic as it gets. We love, love, love these!
5) Noomi Placemat and Napkin – We're obsessed with this item. It's perfect for a holiday table, but can be used year round.