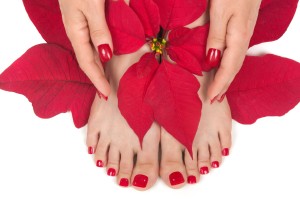 We love getting our nails done. It's true. If our nails are chipped, or in need of a manicure, we get anxiety and head to the nail salon. We also love doing our own, and find it relaxing on a Sunday night to bust out our nail polish collection, pop in a movie, and make our nails look pretty.
We also think it's SO fun to browse Instagram and other social media sites for hashtags that follow the nail design community. If you aren't aware yet, nail art is wildly popular, and people all over the web post photos of their amazing nail designs which are creative and inspiring to watch.
In the spirit of the season, we wanted to share with you some of our favorite designs for the season. We hope you get inspired!
1) Let it Snow – This comes from one of our favorite websites, The Beauty Department. It's a simple, yet totally festive winter design that we think most people could re-create on their own.
2) Glitter Snowflake – This video takes the winter theme up a notch with hand painted snowflakes combined with silver glitter. This video makes it seem pretty easy to do!
3) Christmas French Tips – We love this twist on the traditional french tip. Another fairly easy nail design to do, all you have to do is swap out white for red and green (or blue and silver) and you're good to go. We'd love to see some glitter on these as well.
4) Candy Canes – You may need to ask for some help with this one, but we couldn't post about holiday nails and NOT include a festive candy cane option! This one is too cute to pass up.
Are you into the nail art trend? What are some of your favorite designs? Share them in the comments!