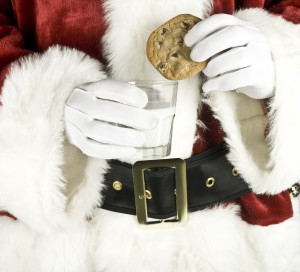 Santa will be heading down the chimney any minute now, and if you haven't started to think of what kind of cookies you're leaving for him, we've got you covered. While a regular chocolate chip will always do the trick, we thought we'd add in some traditional cookie recipes, but with a twist!
We've got something for the chocolate loving Santa, or maybe you think he needs a little sugar cookie in his life. Whatever you're thinking, we've likely got an answer.
1)
Chocolate Dipped Gingerbread Cookies
– It wouldn't be a Christmas cookie list if we didn't add in a gingerbread option! This one is dipped in chocolate, and covered in sprinkles. The kids will love helping you decorate these.
2)
Sugar Cookie Mug Toppers
– We had to add these in, because the idea of someone placing a cookie on the side of Santa's glass of milk was too good to pass up. Use the pre-made dough, or make them from scratch!
3)
Red Velvet Chocolate Chip
– These bright red chocolate chip cookies will match Santa's suit, and we think he will appreciate the sentiment.
4)
Chocolate Chip with M&Ms
– You can never go wrong with red and green M&Ms inside a traditional chocolate chip cookie. These are an old favorite, and we're sure Santa is going to love them!
5)
Peanut Butter Pretzel Reindeers
– And last, but certainly not least, an ode to Santa's reindeer! We think he will get a good chuckle seeing his friends in cookie form, and even though Rudolph can't join in on eating the actual treats, we think he will be happy to see his face on the plate!
All of these recipes are great to make with the kids, and Santa is sure to enjoy every bite he takes.