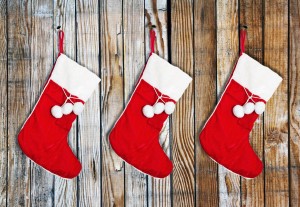 Wondering what goodies will make those stockings extra special and extra stuffed this Christmas?  Here are a few fun ideas for your family—as well as for yourself!
Pet-Themed Stockings
Perhaps your special stocking recipient is a pet-lover—be it dogs, cats, birds or arachnids, stuff their stocking with fun, creative and useful pet goodies.  Peruse your local pet store for food, treats, small habitat improvements (like rocks for a fish tank
or a new log for a special turtle or frog).  Also look online for small books with interesting facts about their favorite critter.  Between pet stores and the internet, there's no shortage of fun goodies for that mammal or amphibian-lover in your life.
Interest-Themed Stockings
Similar to the pet-themed stocking, zero in on your special someone's favorite interest(s) and stuff their stocking accordingly.  For instance, I love grammar and words, so my mom often loads me up on Word-A-Day calendars, common grammar error calendars, tiny books about interesting words and books of crossword puzzles.  (Wow, I am a huge nerd).  For my dad—a golf-lover—she spoils him with golf tees, subscriptions to various golf magazines, small calendars featuring a daily quote about golf, and more.  Think of your spouse or child's favorite hobby or interest and with the help of the internet, get creative and get to stuffin'!
Other Random Ideas
-Address/Date Book
=Camera Memory Card
=Candles
=Bath Salts/Bubble Bath
=Card Games/Travel Board Games
=Gift Certificates
=DVDs
=Jewelry
=Cell Phone Accessories
=Chocolate/Assorted Favorite Candy
=Small Kitchen Items
=Ornaments
=Picture Frames
=Scarves, Hats & Gloves
=Socks & Slippers
=Stationary or Note Cards
=Tickets to a Concert or Sporting Event
=And my favorite—something my grandfather used to give all us grandkids—money.  BUT, because he felt money was an impersonal gift, he got creative and gave us our cash in the form of 2 dollar bills.  It was fun, original and…MONEY!
Merry Christmas!