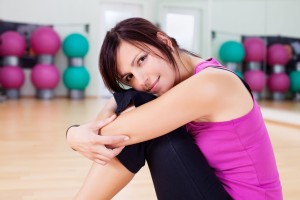 If our other gift guides haven't sparked any inspiration quite yet, how about another one to get the ideas flowing? We've covered your foodie friends, music lovers, and now we want to add in the athletic people in your life. Keeping healthy will likely be a goal for lots of friends in the new year (isn't it always?) so why not show them support with a gift that contributes to their fitness goals?
1) Fit Bit – Our amazing fiancé bought us a Fit Bit this year, and we think it's quite awesome. It's one of many bracelet pedometers on the market, but it does way more than just track your steps. You can put in weight goals, compete with friends who are also tracking their moves, it records your sleep cycle, and it's an awesome way to keep you up to date on all of the progress you are making.
2) A hike and a lunch – This one is a great way to spend quality time with the hiker friend in your life. Look up a cool spot in your area, or maybe even a bit out of town, and schedule a day to go for a hike and have a picnic. It shows that you care about their interest, and is low on cost.
3) Custom Yoga Mat – For the yogi in your life! Create a custom yoga mat, they will love it!
4) Hytail Hat – This is too genius. It's a hat that can finally fit a high pony tail! As a woman who likes to play sports, I can appreciate the necessity for this one. There is nothing more frustrating than having to have your hair down your neck while being active. This solves that problem!
5) Pay their way into a 10k – If you have a friend who loves to run, cover their entry fee into a 5k/10k or a half marathon! They will love you forever.