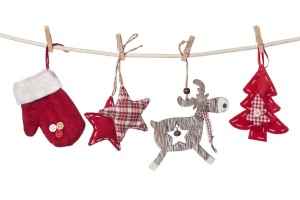 We've "officially" started decorating for the holidays. If you ask us, we think you should start decorating whenever you want to, but the internet is filled with people who insist you wait until AFTER turkey day so here we are.
There are a ton of really fun and easy ways to add some holiday cheer to your home, many of which are inexpensive as well. Several of these projects can be made with kids, teens, or your other crafty adult friends too!
Here are some that we think would be tons of fun to make.
1) Glittered "Joy" Mantlepiece – This is great for a home where people celebrate different holidays. Sure, it's generally seen with Christmas decorations, but joy should be celebrated by all. We love the idea of using white glitter to make it look like shimmering snow.
2) Holiday Doormat – This is a modern take on a Christmas tree doormat, using triangles, but not in the typical way you'd see them displayed as trees. This is great for those who want to be a little more chic, and less Santa's Enchanted Forest with their decorations this year.
3) Ornament Frame – We love the idea of framing some family photos in these festive pieces, or framing a mirror in the family room with it as well. It's such a genius idea and we think it would look great in any home!
4) Gift Bow Shadow Box – Add this piece of holiday artwork to your frame wall, or make it as a gift for a friend. This is one of those projects that will make you go "why didn't I think of that?"
5) Glitter Reindeer Art – This is simple, yet so chic, and would look wonderful on your desk, in the kids room, or up on the wall in the kitchen.