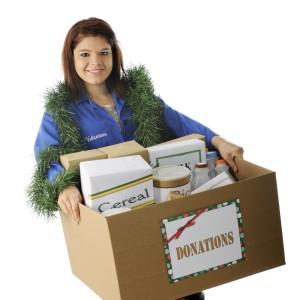 Tis the season for lots of gift giving, item purchasing, and a few too many spiked egg nogs. It is also the season to give back to your community, show gratitude for what you already have, and try and do something positive for the world around you. While yes, this should be things you strive for every day, we're not opposed to the season sparking up some inspiration and motivation to do some good!
We wanted to share some of the ways we've given back in the past, and throw out some new ideas that we felt would be good options as well.
1) Collect donations at your office, or work – Inspire those around you. Take a box, wrap it in some festive paper, and collect donations from your co-workers. Teens are a huge demo that are under gifted each year (most people donate baby dolls, etc) so please keep them in mind when you are looking for a toy to donated. (Think make up, sports equipment, movie passes, etc)
2) Volunteer at  local food bank or soup kitchen – This is a great way to meet face to face with those in need, and have a first hand experience with those you are helping. It's quite powerful, and gives you a chance to connect with new people.
3) Ask for a charity donation as your present – Instead of adding another new set of sneakers to your Christmas list, why not replace ONE item with a donation request?
4) Sponsor a family – There are a ton of organizations that will allow you to sponsor a family in need this season. You collect the items on their wish list for them, either by purchasing them on your own, or getting them donated from friends and family, and help to put together a nice Christmas for those in need.
5) Bring a hot plate of food to the homeless in your area – This is a quick and easy way to make someones day.
What ways will you give back this year?