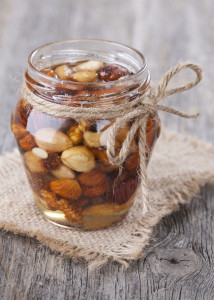 Throwing small gatherings for friends is one of the best ways to spend time. We love to host get togethers at our home, and if it's a themed party of some sort (ie: holiday party, birthday party, etc) we like to leave our friends with a little something to take home with them. What can we say, we are a serious lover of goodie bags. It's definitely something that never left us after childhood.
Often times, we make the favor food based. If you give people food to leave with, you are pretty much guaranteed to have guests who will always RSVP yes to your shin dig!
Here are some food party favor ideas that we've either used at some point, or have on our list of things to do in the future!
1) Chocolate Covered Pretzels – These are super simple to make, nearly always look professional, and are a sweet treat that people have enjoyed for a very long time. I've used mini pretzels in the past, dipped half of the cracker in the chocolate (usually a pretty color like orange, pink or blue) and added some sprinkles to decorate. Put 5 or 6 in a small favor bag, and you're set!
2) Roasted Almonds – We went to a fall themed party last month, and the host gave us all small jars of roasted almonds. They were seriously unreal, and it was such a nice treat to take home!
3)
Cupcake In A Jar
– We haven't done these yet, but we absolutely adore the idea. Pretty much as easy as making cupcakes, just with a different twist!
4)
Cookies In A Jar
– This is a different option, where you put all of the dry ingredients needed to make a batch of cookies into a jar. You attach baking instructions, and it's quite awesome!
5) Flavored Popcorn – Another easy one! Pop some popcorn, choose a flavor, and put it in a big bag with a ribbon. This is a super cute idea for a movie themed party.