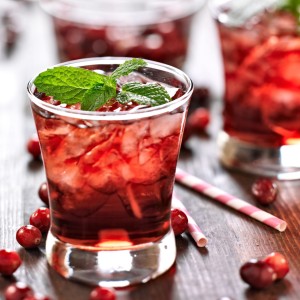 You can't have a proper holiday party without including a signature cocktail of some sort. It's an awesome way to add a little flair to your party without going overboard on spending costs. It can be as simple as buying a bottle of booze and a mixer, or you can add in a bit more with some spices and a garnish of some sort.
If you want to take it a step further, you can even get some fun glasses to serve them in. While some people feel mason jars are overplayed and out of style, we still love them with a little ribbon wrapped around the center.
Here are some cocktail recipes we may add to our holiday menu this year:
1) Rum – Warm English Christmas Punch –  Tea, red wine, AND rum? Sounds like a perfect combination. The warm, citrusy combination will go down quite smooth on a cold Christmas morning.
2) Tequila – Christmas Spirit Cocktail – This is a simple concoction but will look gorgeous on any holiday party table. It's a simple mix of tequila and pomegranate seeds, but the look is VERY holiday cheer!
3) Vodka – Gingerbread Apple Cocktail – A recipe that includes a spiced graham cracker rim is a total winner in my book. Plus, apple cider and vodka are a delicious, yet underrated combination.
4) Gin – Sweet Tail – We love how this drink ends up layered with two colors and with the addition of mint leaves you get a festive look!
5) Champagne – Coming Up Roses – Here you will find a lovely rose flavored cocktail that would be stunning served at any party.
6) Scotch or Whiskey – Black Pearl – A twist on the classic whiskey and ginger ale with the addition of apricot brandy. Sounds delicious!
Well that should do it. What are your favorite holiday cocktails? Add them to the list in the comments below!