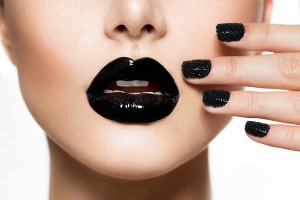 Cozy sweaters, tights, boots and chic jackets – fall is finally here! While you're busy putting together the perfect fall outfit, don't forget about your ultimate accessories – your nails! This fall there's a host of fun fall nail trends to try out, and we've got you covered!
Nails Go 3D – From small studs you can affix to your nails to textured (think snakeskin and eggshell) nail polish, fall is all about popping – literally.
Back to Black – And we're not just talking painting your nails basic goth-black here. There are so many variations on the black nail trend that the possibilities are endless! From just painting half your nails black, or layering white patterns on top of black (like the oh-so-trendy checkerboard pattern,)  the sky's the limit.
Metallic/Holographic – This trend never seems to get gold. Fall is all about rich, deep colors, and what better accent than metallic nails. Think gold, bronze, and silver. And this season takes metallics one step further with a variety of futuristic color-changing shades that change when hit by the light.
Oxblood – Not quite black, not quite red, oxblood is the new hot fall color. It's dark, deep and slightly vampy, but not completely black.
Go Bold, Go Bright – Sure, deep colors will always be a hit come fall season, but this season trendsetters are going for a pop of brightness. Think tangerine orange, chartreuse, electric pink and bright blue. These vibrant colors are sure to add just the right amount of fun to any fall outfit.
Glitter Galore – Who doesn't love a little sparkle to perk up their day? Good thing glitter nail polish is back and bigger than ever. Layer it over a solid color, or wear on its own to bring a little party to the daytime.
All Things Matte – Matte-finished nails were all over the fall runways. From neutrals to blacks, this velvet finish is the way to go this Fall.
Go Green – Green, you say?! Yes, green. Hunter green to be more specific. This shade was all over the runways, and while it may not seem like a dark green shade would match with much, you'd be surprised. Think of this and oxblood as the new blacks.
Happy painting!