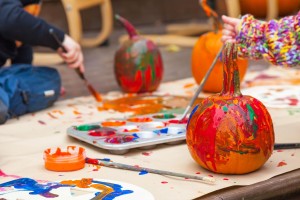 Halloween may be a time for candy eating, scary movies, and lots of tricks, but it's also one of the best holidays for art projects with your little ones. There are so many great projects for kids of all ages, and the look on their faces when they've finished their custom piece of artwork is a bonus at the end of an awesome day.
Here are some project ideas we truly love.
1) Pumpkin Painting – OK so this one is very traditional, but it's still worth adding to the list. If you haven't tried painting a pumpkin yet, this is the year. Buy paints suitable for whatever age range you are working with, and paint away! If you want to get fun with it, buy some painters tape, and tape off sections of the pumpkin, or cut out shapes to stick on before you paint. Watch as your kids giggle away when they realize part of the pumpkin stays orange with your little trick!
2) Plate Monster – This is just adorable and easy for kids of all ages. To switch it up a bit, choose different color plates and construction paper so you get a multi-colored monster. Maybe even add some pulled cotton balls for hair or add glitter to glam it up a bit!
3) Spooky Ghost Painting – Another awesome project great for both young kids and even pre-teens! It's a simple water color painting, with a twist! We don't want to give it away, so you'll have to head over to the link to see what we mean!
4) Frankenstein Foot – Here is a project for the truly tiny! We love any sort of hand print or foot print art idea, and this Frankenstein foot is way too cute to pass over. This would make a great Halloween card for family members, or simply a fun addition to your child's growing art wall.
What Halloween art projects are you making this year?