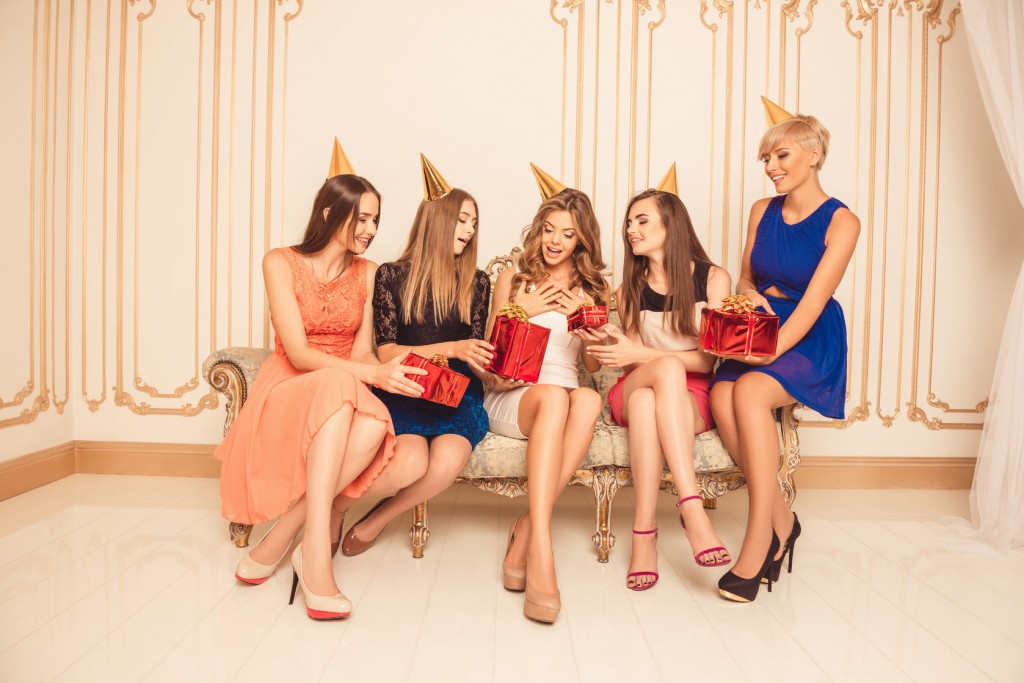 Seems like 2015 flew by, doesn't it? We were just sharing recipes for the summer, and already we're getting prepared for the holiday season. No matter what you and your circle celebrate, you have to be sure to maintain the best possible wardrobe to fit any circumstance. If you haven't dressed up for most of the year, now's the time to get glammed up — whether it's for your annual office party or if you're with friends for Thanksgiving, there are so many different looks to try. Be sure to open your mind to trying something new at all times, you never know what could work for you. So if you typically go 'girly' at the office, try a pantsuit for the holiday party this year. If you usually avoid sequins for the New Year, go glitzy in a shimmering golden mini-dress. The options are limitless — just be certain that you order online items a couple of weeks before, so you can have enough time to get the pieces tailored if need be. If you find yourself overwhelmed by the options, no worries, Weekly Sauce has got you! Here we present four different scenarios and options for your upcoming holiday parties.
Holiday Party at the Office
The rule of thumb is to keep "sexy" at a minimum here. You don't want your boss looking at you differently when you guys return to work, so avoid showcasing cleavage or baring too much leg. Besides, you can shine confidently — even in a full pantsuit. Try this TALL High Neck Jumpsuit in Black from TopShop ($130). Unlike many holiday outfits on the market, you should be able to wear this one more than a couple of times. The wide-leg silhouette is universally flattering and on-trend. Pair it with some Dea Heels from Sam Edelman in Gold ($110) and a few simple pieces of jewelry on your hands and arms, and you're set for good times at the office.
Holidays with Family
Whether you're celebrating Channukah, Christmas, or Kwanzaa, you don't want to be around your little cousins with your lovely lady lumps hanging out. Anthropologie has a gorgeous dress from Byron Lars called the Carissima Sheath ($258). Perfect for when you you've got to be ladylike and proper — but still flawless — around the family. The sheath is beautifully detailed with lace and appliqued flowers, and it's just sheer enough in the bodice where it'll still be appropriate for the gathering. This one is exclusively at Anthropologie though, so check to see if there's a location close to, or in, your city. Also, if you're short on a classic-smelling fragrance for that evening, try the new Dolce Floral Drops from Dolce & Gabbana ($103 for 75 ml). The sandalwood, cashmeran, and musk notes beneath the scent ground this fragrance in the holiday season but the lighter Neroli leaves, white daffodil, and white water lily keep it feminine.
Friendsgiving
You can relax a little around your friends — that's what you guys usually do. But if you're planning something special for Thanksgiving, it'd be okay to dress up juuuust a little. Especially if you're single and one of your girlfriend is bringing a prospective date "for you." The Lace Bodycon Tunic in Teal from Topshop ($75) is sure to wow everyone at your Friendsgiving table. Pair that with the Fasinate Heels ($129.95) from Steve Madden in taupe, and you've got yourself a look that's sexy but not too overdone.
New Year's Eve
Even if you have an aversion to sequins, New Year's Eve is the night to try what you typically would pass up. This Draped Mini Dress from Dancing Queen ($137) is absolutely gorgeous, and while you're showing plenty of leg, there isn't much else being exposed — besides your back, of course. Put that hair up and work the city, girl! You're guaranteed to make heads turn at whatever party you hit. Keep your makeup understated, because the dress draws so much attention by itself, but don't forget the lips for that midnight kiss appeal. The Sophia Loren No. 1 Lipstick from Dolce & Gabbana Beauty ($35.50) is a red that was specifically designed to complement the deep pigmentation on the lips of the timeless movie star. The shade was just released a few months ago, but it's bound to sell out as a collector's item, so grab yours while you can!