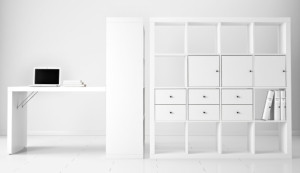 Who doesn't own an IKEA Expedit bookshelf? It's pictured in every single design/DIY blog out there, and everyone from college students to middle-aged adults seems to have owned one of the modular units made of cubes at some point. People use it as everything from a traditional bookshelf, to a room divider, to its most cult-ish use – for vinyl records. Well, sad news folks, the Expedit is soon-to-be no more. Earlier this week, IKEA announced that the iconic bookshelf will soon be discontinued. The Swedish company does promise to replace the EXPEDIT with a similar shelf, KALLAX, which "has the same internal sizes and uses the same internal fittings," but diehard fans are not taking the news well. Recent tweets from EXPEDIT fans include:
Also, I just found out that IKEA is discontinuing the Expedit. CAN TODAY GET ANY WORSE? #JamesFranco #IKEAsorrow
PLEASE GOD, NOT THE EXPEDIT. #ikea
The world is ending – I've just read that Ikea are discontinuing the Expedit range! I'm obsessed with that range *begins stockpile*
OMG, IKEA are discontinuing the Expedit shelving range *stockpiles for all eternity*" Nooooooo!
Goodbye, @DesignByIKEA Expedit. I'll never stop loving you.
People are so upset that there's even a Facebook page dedicated to saving this shelving system with almost 25,000 likes at the time of this post. Will IKEA hear the cries of the wounded and bring back the EXPEDIT after it's gone? Only time will tell…