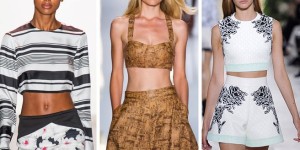 Is there any current fashion trend more annoying than the crop top? Yes, the 80s are over, and no, we don't all have six-pack abs we want to show off all the live long day. But hipsters, tweens and teens alike are all flocking to this ridiculous trend. I even saw a 7-year-old donning a crop top with booty shorts the other day (don't even get me started.) And walk into any Forever 21, and it's crop tops galore – but unlike the name of the store, we are not really forever 21. At some point the showing off of the abs has to become reserved for the beach, don't you think?
Now maybe it's the over-30-year-old in me, but I like to think that even my early 20s version would've been appalled at such an unflattering idea. I get it. I really do. Teeny-weeny pixieish celebs like Selena Gomez or hipster poster girl Alexa Chung can all pull off the cropped top with ease and make it look grunge-tastically cool. Even Kim Kardashian has become a crop top junkie as she pairs half length turtlenecks (really, itn's that contradictory?!) with tight pencil skirts. And don't even get me started on the Queen of the Crop Top – Miley Cyrus. But on most people it looks like they just forgot their shirt or as if they're going to an 80s work out class à la Jane Fonda.
And how annoying is it to go into any store lately and find it hard to find a regular shirt that hits below the belly button, let alone all the way to my hips! So, ladies, I am pleading for a call to action. Let's say adios to these really obnoxious pieces of micro-clothing, and hello to real fashion again. Can you tell I really miss the season when long cardigans were in? Rant over, thanks for listening folks.
What do you think? Crop tops – hot or so not?