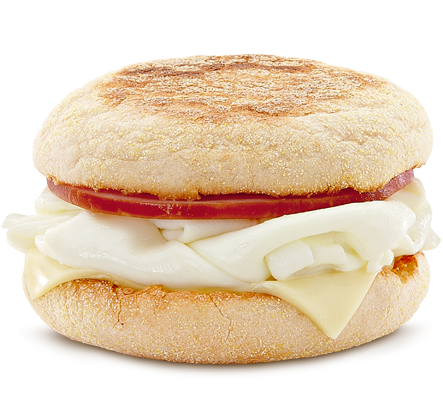 From healthy-sounding salads and wraps, to smoothies and cups of fruit and yogurt, the fast food industry has long been challenged to clean up its infamously greasy image, and makes a half-hearted attempt by rolling out these "fresh" new products to show that they're turning over a new lettuce leaf.
The problem is that despite trendy marketing and attempts to make processed food appear less so, often their offerings aren't too different from the original menu items.
For example, "At McDonald's," NY Daily News wrote, "the egg whites for the new breakfast sandwich called the Egg White Delight McMuffin have a loose shape rather than the round discs used in the original Egg McMuffin." Despite a look that says it's not a processed puck like its counterpart, is the Golden Arches' wholesome new breakfast sandwich really a departure from the brand's famous Egg McMuffin or another lame attempt at (egg)whitewashing over unhealthy ingredients?
"The traditional Egg McMuffin shares the same 18g Protein and 32g Carbs as its "healthier" counterpart and actually comes in at 20g less Sodium"
To sell the Egg White Delight, the Mickey D's site copy reads: "Make your morning with 100%, freshly grilled egg whites, extra lean Canadian bacon and smooth white cheddar*, stacked on a toasted English muffin made with eight grams of whole grain. Great taste for 250 calories." Already there is an asterisk, and it's to note that the cheese is pasteurized process cheddar.
They list the make up of the Egg White Delight muffin sandwich as an English Muffin with 8g whole grains, egg whites,  Canadian style bacon, pasturized process white cheddar, and also liquid margarine. Funny, I don't remember seeing liquid margarine on the billboards. An additional, more detailed breakdown of each of those components can be read here.   The finished sandwich has 250 Calories, 18g Protein, 7g of Fat, 32g Carbs, a whopping 800mg of Sodium, Cholesterol 25mg, and no trans fat.
Now, the traditional Egg McMuffin (below) is fifty Calories higher at 300, is up 5g of Fat at 12g total instead of 7g, but shares 18g Protein, 32g Carbs with it's "healthier" counterpart and actually comes in at 20g less Sodium, with 780mg. Both sandwiches' bread is made with 8g of whole wheat.
I rip  off the Canadian bacon (which, much like Chandler Bing's job, has always been a mystery to me), because I'm a vegetarian. But since the confounding circle of pork seems to be the same for both muffins, I can't imagine it has too much impact. And, really, nothing else does either.
Like a rose by any other name, the difference in taste between pasteurized process cheddar and pasteurized process American Cheese is definitely negligible. It's almost impossible to tell them apart.And whether the liquid egg is a perfect disc or a more "natural" configuration of "egg whites", somehow the yolk doesn't seem to factor into the taste. I think the yolk is on us.
Have you tried the new Egg White Delight? Do you find it to be drastically different from the classic Egg McMuffin or another attempt at luring in customers with a bogus "artisan" alternative?  — Casandra Armour