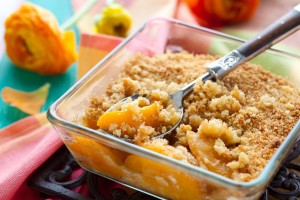 Last year, my mother was diagnosed as diabetic, which was pretty awful. In addition to diabetes just being a scary disease, we are both lovers of all things delicious, including sugary treats and lots of carbohydrates. In fact, baking is a shared hobby of ours, as well as cooking and it's now become more imperative than ever to watch our sugar intake and what type of carbs we eat.
Why did this turn into a "we" statement all of a sudden? Well you see, my recent blood work came back showing that if I don't get my act together soon, I will also develop diabetes, and that's just not the direction I'm trying to go in my life.
Cut to: my mom constantly sending me low carb dessert recipes to try. Here are some of my favorites:
1) Fruit Crumble – This is one my mom kind of just made up, so let me give you the quick run down. Purchase whatever fruit happens to be in season, whether its summer berries or fall apples, just choose anything you enjoy. Peel/wash it, and set it aside.  Buy some almond flour, put it in a bowl. Add some butter, and smoosh it together with your hands to make a crumble. Mix fruit together, adding some cinnamon for flavor, and put it in a glass baking dish. Pour crumble on top. Sprinkle with Z sugar or Splenda. Bake in oven at 350 until top is golden brown, and fruit is boiling. YUM.
2)
Chocolate Mousse
– Can't go wrong with this recipe! Anything with chocolate is a-ok in our book.
3)
Nutter Butters
– A fun take on an old favorite, we are pretty excited to test this recipe out. We love us some peanut butter.
4)
Lemon Squares
– This is a dessert that will always be on our top favorites list. Something about the tanginess gets us every time!
Do you have any low carb recipes you want to share? We can always use more!