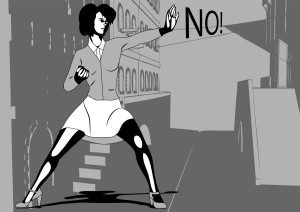 As a woman living in Los Angeles, rarely a day goes by that I don't encounter someone who's slightly—how should I put it?  Dodgy?  Seedy?  Just plain scary, that's it.  This coupled with my masochistic tendency to watch true crime shows about abductions, serial killers and stalkers before bed, I started looking into ways of protecting myself.  Being from Texas, my first instinct was to learn to shoot then buy a gun.  But after I considered the ramifications of this choice (I do have three small fur children to think about), I chose to continue researching.
That's when I found Women On Guard, a self defense products and home protection store.  Their products are specifically geared towards women and vary greatly based on your needs.  Whether you want something small to keep in your purse, a way for your college-bound daughter to protect herself or added security for your home, this website has a wonderful selection of non lethal self defense items at an affordable price.  From Mace and stun guns to fake security cameras and hidden safes, this site has something for everyone.
And because knowledge is power, Women On Guard also has numerous resource links regarding state restrictions, how the products work, FAQs, a blog and even a hotline number.  When I decided I was ready to buy but didn't know which product was best suited for me, I simply emailed them, explained my situation and needs and received an extremely prompt reply and product recommendation.
It's always better to be safe than sorry, and in this case, these words ring even truer.  Most likely you'll never need to use your product, but relish in the peace of mind it brings you the next time you're walking through a dark parking lot or leaving the office late.