Raising a pint for feminist culture, this fall Oregon's Full Sail Brewing Co. is sharing "Duffy's Counterpunch," an Imperial Cascadian Dark Ale crafted by Full Sail's Marketing Coordinator Stephanie Duffy [below].
The company hosts an event they call their Brewer's Share series, a line-up of small batch draft beers where each Full Sailor takes a turn hand-crafting their own single batch recipe and a portion of the proceeds benefit a local charity of their choosing.
With each Brewer's Share series beer, the company picks a local nonprofit to receive a portion of the proceeds from the sale of the beer. Every keg of Stephanie's beer benefits this nonprofit feminist organization B*tch Media, best known for publishing the magazine of the same name. Their mission is to provide and encourage an engaged, thoughtful feminist response to mainstream media and popular culture.
"My hope is this beer will inspire further conversations about women's rights, feminism, and equality, because those are incredibly important and pertinent topics for all of us. What better place to discuss the philosophies of our culture and world than in a public house over a pint? That's why I chose to support B*tch. They promote healthy, informed discussions about feminism in our culture. Not only that, they're based out of Portland and I find their insight to be of the highest value," she added.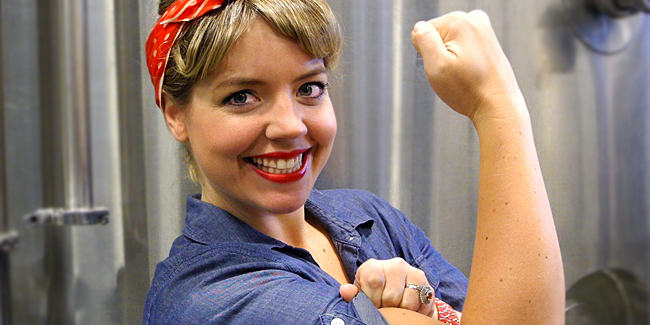 Full Sail Brewing gives us a taste of Stephanie's beer, writing, "This ICDA is rich and complex, with woodsy evergreen aromas complemented by notes of coffee and dark chocolate from roasted malts. The mouthfeel is full-bodied and warming, and the ample malt body (with help from Munich and a range of Caramel and Carafa dark malts) supports the assertive roast and hop character. Nugget, Crystal, and Brewer's Gold hops provide a slightly fruity, tangerine note and a crisp, hoppy finish.
The beer's ABV is (Alcohol by volume) 7.5%  and IBU (International Bitterness Units) is 82.
"My beer defies the traditional expectations of a "girl's beer," Stephanie notes. "Like many women, I love my beer and I appreciate a broad cross-section of craft brews. I'm lucky to live and work in Oregon where craft beers are such a vital part of our culture. Even though the beer industry is still very male-dominated (like so many other industries) I thought it was especially appropriate to brew a bold, strong beer in honor of all the bold, strong women who shirk stereotypes and avoid being pigeonholed. We're in no need of pandering! Our tastes are as diverse as anyone else's. Duffy's Counterpunch is a richly nuanced counterargument—in beverage form."
She adds that "Strong women have always inspired me, and I'm fortunate to have a CEO and Founder like Irene Firmat leading us employee-owners at Full Sail. She's been in the game with the boys since 1987 and has come to the forefront as a savvy businesswoman who creates a company that truly loves and respects the culture of beer. You couldn't ask for a better female role model than that."
Full Sail's Brewer's Share Experimental beers will only be available on tap at Full Sail's Brew Pub in Hood River, Oregon, and at Full Sail's Brewery at Riverplace, in Portland. — Casandra Armour