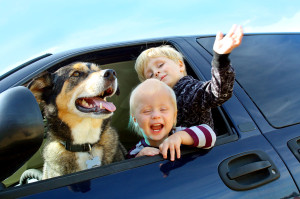 With the impending arrival of Baby #2, and the increasingly squashed space in our Prius, we've started thinking about the move to a bigger car. But that always brings up the question (at least when multiple children are involved): to minivan, or not to minivan? My first instinct is always a resounding, "NO!" But, why? It appears that many of us (myself included) have certain preconceived notions that the switch to a minivan officially signifies the end of being fun, cool, or any type of young. It's the final nail in the I'm-a-parent coffin. No longer can you be that stylish mom who still grabs coffee with the girlfriends, now you're a mom-jean wearing, everlasting pony-tailed, bona fide soccer mom just carting kids to and fro.
But, upon talking to many people who have made the switch, it's so not true. And anyone you talk to who does have a minivan raves about it. The space! The sliding doors that make it so easy to get kids in and out even in tiny cramped parking spots! The cooler in the floor! The third row! Did you know the new Toyota Sienna even comes with a built-in vacuum?! Tossing in your mega stroller will no longer leave you with zero trunk space or squashing groceries into the front seat. And want to take grandparents along for the ride? No problem – with some seating up to 7 passengers (or more!), it's a breeze! Another argument I often hear that it's safer than the "cooler" alternative many parents choose to go with, the SUV.
On the flip side all that space means a much larger, bulkier vehicle to drive and park. No more fitting into those compact spots anymore. And like any larger vehicle, gas mileage usually isn't great on a minivan. And they don't come cheap. All the extra room often comes with a hefty price tag.
So what's a growing family to do? What do you think? Are you pro or anti-minivan?