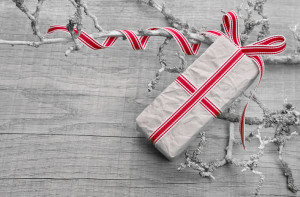 Hanukkah is here, and Christmas will follow very quickly, which means it is now time to really get your planning started. Sure, most of us will wait until the last minute to gift shop and gift wrap, but if you're looking to get a head start on some ideas, we're here to help!
We love seeing fun and interesting ways that people wrap up their gifts, especially if it moves us away from $10 gift wrap from the drug store. Anything unique and fun is right up our alley!
Here are some ideas that we are completely obsessed with!
1)
Cupcake Paper Carnations
– This idea from Martha Stewart is super easy to make, and a great way to use up some extra cupcake liners. You can scrunch them to create different sizes and make layers that look like a flower.
2)
Washi Tape
– Washi tape is an awesome way to add a little fun to a gift box. We love the idea of creating a drawing of a bow on the front of the box. It's a cool twist to a traditional bow!
3) Sheet Music – Head to your local goodwill or used book store and grab some old music books. Tear them apart, and put them back together as gift wrap. Cut out a musical note from a piece of black paper, and use it as your gift tag!
4) Use Photos – For a small gift, use regular computer paper which has photos of you and the gift receiver printed on it. Wrap it so the photo lands right in the middle. It's personalized, and full of love!
5) Use a cloth napkin – For friends who love to cook, wrap up a jar of something sweet with a cloth napkin. Add a cooking utensil under the bow as an extra little gift.
What are some fun ways you've wrapped gifts in the past?