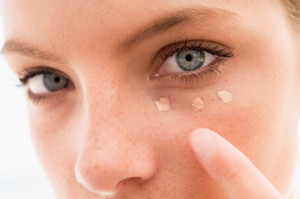 First there was moisturizer, then foundation, then tinted moisturizer, and now…  BB cream. It's everywhere – on shelves, on TV, in magazines and it is hot hot hot right now… but what is it?
BB cream stands for beauty balm (or blemish balm) and is the hottest product to hit the beauty industry in recent years. BB creams are actually apparently a hybrid of several commonly used skincare products: moisturizer, sunscreen, primer, foundation, concealer and even skin treatment. Its major appeal (and selling point) is that it should be the only product you need to put on your face in the morning to get ready. Bye bye millions of tubes and pots of creams. Bye bye wasted time.
BB creams were first developed by Christine Schrammek, a German dermatologist who wanted a one-stop shop of a product that would protect and cover her patients red skin after laser treatments. This all-in-one magical product then made its way over to South Korea where it became a HUGE sensation. And we mean HUGE. They then made their way over the US, and a new trend erupted.
Although they purport to be a magical all-in-one product, many experts claim that it's difficult – if not impossible – to get the maximum benefits of each component in one cream. While they may function as a moisturizing-sun protecting-anti-serum, they will not moisturize as well as a traditional moisturizer. According to Los Angeles dermatologist Dr. Harold Lancer, "BB Creams are a brilliant marketing concept, however one cream that fits all is a false notion… [t]here is some modest benefit-moisturizing, but should not be the end all of the fountain of youth and certainly should not replace any other vital steps in skincare."