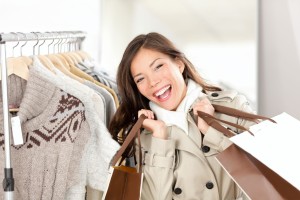 So it doesn't exactly get to below freezing temperatures here in Southern California during the winter time, but that has never stopped us from busting out a winter coat when the time is right (HELLO? Skiing in Big Bear)! We have spent countless hours browsing for a new jacket, and we think we've found some pretty awesome items at totally affordable costs.
As usual, we want to share our glorious finds with you so we can all do a little window shopping together. How does that sounds? Alright, let's go!
1)
Army Green Faux Fur Trim Parka
– We love anything army green and of course the added touch of a little faux fur never hurt anyone. The elbow patches also add a little extra fun to an otherwise plain patterned jacket.
2)
London Fog Coat
– We are OBSESSED with this piece. The bright red, the hood, the cool clips down the front. It's amazing and for just over $100 bucks? Can't go wrong with that!
3)
Calvin Klein Hooded Toggle Walker
– YES. YES to this coat. The neckline is amazing, we always love grey and it looks so comfy we just want to wrap ourselves up in it. Someone please buy us this for the holidays. Anyone? No? OK cool we'll just go get it ourself.
4)
Calvin Klein Faux Leather Trim Heathered
– Sorry we're not sorry for adding a second Calvin Klein coat to the mix. Yet another awesome neckline, and the added leather details are to die for. We're drooling. We need more room in our closet for all of these amazing pieces.
5)
INC Faux Leather Motorcycle
– This is an adorable addition to anyone's wardrobe and pretty much a must have if you ask us. While some may want the real deal, we're down with the faux leather and would rock this jacket so hard you'd think we were a Motley Crew roadie.
Hope you enjoyed a little window shopping with us! Goodbye for now.